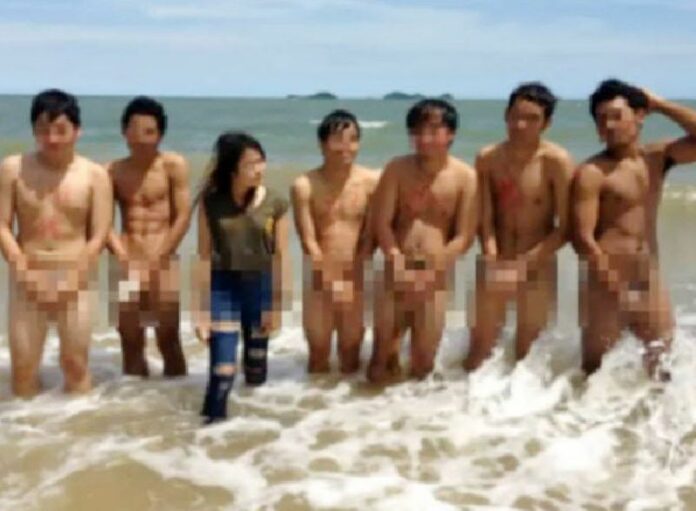 PATHUM THANI — The Thai social network has been buzzing with controversial photo purportedly showing group of freshmen at a university standing naked in the sea – with their private parts barely covered by their hands – during a hazing session supervised by senior students.
A woman, believed to be one of thesenior students, was also seen walking by the group of male students, seemingly oblivious of their stark nakedness.
The photo appears to be a reminder that the rituals of hazing (rub nong), in which senior students forcing the freshmen into series of humiliating activities to earn respect from the older students, are still widely practiced despite campaigns by some progressive students and human rights activists against the culture.
After much speculation and discussion, Rangsit University, which is based in northern suburb of Bangkok, issued an apology, acknowledging that the students who appeared in the photo study at its Faculty of Engineering.
The statement says the students organised the trip to the sea on their own way, and the university is not involved in any way.
It also insisted that the university has strict regulations over students' activities. They are required to respect dignity of fellow humans and refrain from lewd acts or alcohol consumption, according to the statement.
Rub nong trips outside Bangkok are common for many university students. There has been constant complaints of sexual harassment, forced alcohol consumption, and excessive violence during some of these trips. Injuries or even deaths in rub nong trips have been previously reported by Thai media.
Supporters of rub nong culture claimed that it reinforces the principles of SOTUS – a short term for seniority, obedience, tradition, unity, and spirit – among the students, while civil rights activists argue that it amounts to dictatorship and inhumane treatment of younger students in universities.