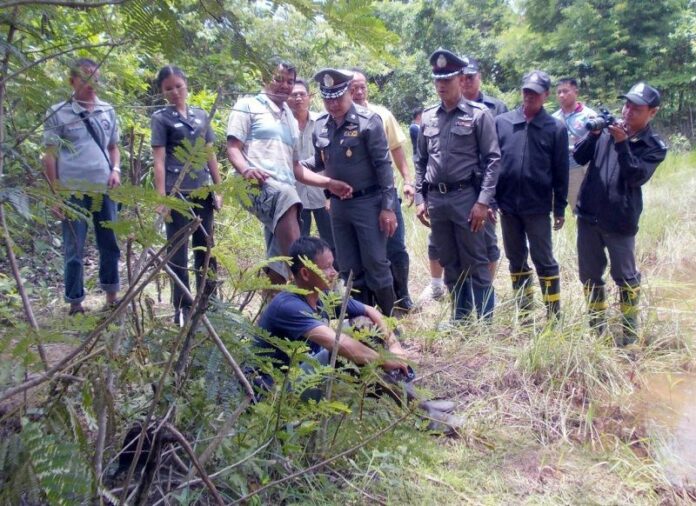 (21 July) Affairs between
a married man and a friend of his daughter ended up in a murder case after the woman reportedly made
joke about her partner′s erectile dysfunction, enraging him so much he drowned her to
death.
The dead body of the woman, identified as Ms. Siripon (surname unclear), 22, was found
floating in a pond in Mueang District, Bueng Kan province, on 12 July. The autopsy showed that she
was drowned. Since the body had been in water for 10 days, the police could not find any bruises or
marks indicating that she was attacked.
However, relatives of Ms. Siripon were convinced she
was murdered because some of her belongings, including her Samsung Galaxy mobile phone and her
sandals were missing from the body.
After days of investigation, the police said they had
arrested Mr. Don Nakua, 43, in connection with the crime. He reportedly confessed he murdered Ms.
Siripon.
Mr. Don told police he had been in
affairs with Ms. Siripon, a friend of his daughter, despite the fact that both he and Ms. Siripon
were married. He said he had tried to have sexual intercourse with Ms. Siripon twice, but both
attempts failed because of his erectile dysfunction, and Ms. Siripon had derided him about
it.
On the day of the crime, 2 July, Mr. Don
reportedly met Ms. Siripon as she was drinking beer in her village and later invited her to do drugs
at the scene of the murder, which is next to the pond in his rubber tree plantation.
After they had taken some drugs, according to the suspect, both he and Ms. Siripon were
turned on. Nonetheless, Mr. Don suffered from erectile dysfunction yet again and could not perform
sexual intercourse, prompting his partner to insult him like previous times.
Enraged, Mr.
Don allegedly kicked Ms. Siripon into the pond. He later charged into the water, grabbed Ms.
Siripon′s neck, and drowned her to death, according to his testimony.
Mr. Don also told the
police that after he committed a crime, he fled the scene on his motorcycle and slept with his wife
as though nothing happened. On the next day, he said, he went back to scene to retrieve Ms.
Siripon's belongings and buried them 100 metres away from the scene.
During the crime
re-enactment session, the angered relatives of Ms. Siripon tried to attack the suspect several
times, and the police had to keep him away from the crowd.