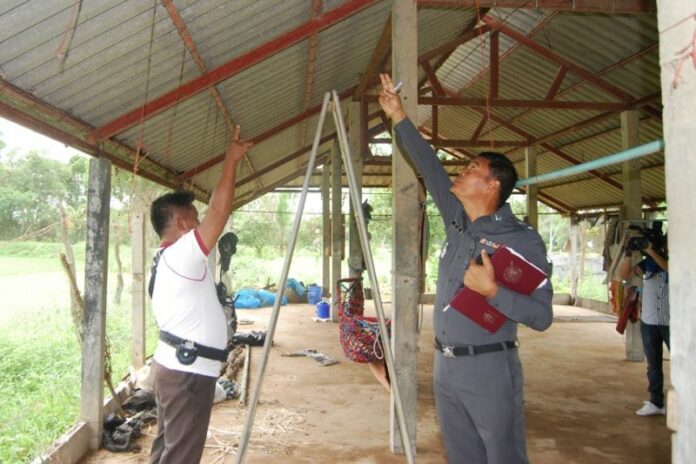 (25 July)
A construction worker shot his ex-wife dead because he was bitter that she left him then hanged
himself, according to police in Khon Kaen province.
The police were called to investigate the
scene at a farm house in the middle of a rice field in Muaeng District, where the body of Ms. Lamai
Baanburi, 27, was found on the floor. Her forehead, her back, and her right arm bear gunshot wounds.
20 metre away from the house, police officers found the body of Mr. Chonchai Kampo, 26,
hanged to the ceiling of an indoor chicken pen. A ladder was found nearby. His dead body smelt of
alcohol beverage.
Mr. Ken Kampo, 60, father of the dead man, told police his son worked as
construction worker. Mr. Ken said Mr. Chonchai was married to Ms. Lamai, with whom he had a 10-year
old and a 5-year old son.
The couple lived in that farm house for some time but they often
argued with each other, Mr. Ken said, and Mr. Chonchai often beat her when he was drunk. Ultimately,
2 months ago Ms. Lamai left her husband and took their younger son with her, according to Mr.
Ken.
Mr. Ken said on the night before the crime, Mr. Chonchai called Ms. Lamai, inviting her
to stay over and discuss their relationship.
However, on the next morning Mr. Chonchai
reportedly asked Ms. Lamai to return to him but she refused. Mr. Chonchai – believed to be drunk at
the time – then allegedly beat his wife and shot her to death. He subsequently hanged
himself.