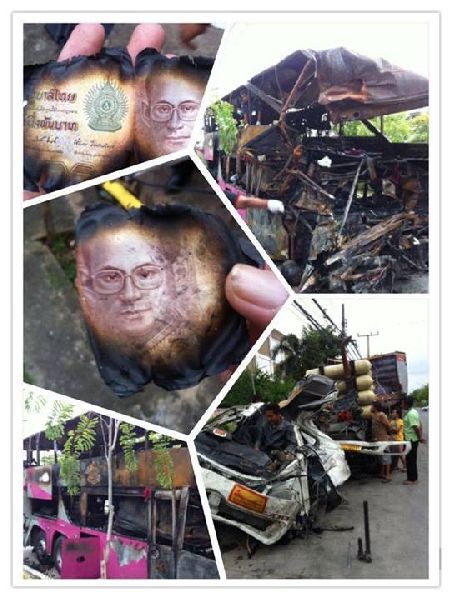 (25 July) As the
authorities are scrambling to come up with preventive measures for interprovincial buses to prevent
a repeat of the horrific bus accident in Saraburi province that killed 19 victims, claims of miracle
arose from the ashes of the tragedy.
Many on Thai social network have been sharing a photo
purportedly showing burned remains of banknotes found inside the charred bus, with the face of His
Majesty the King virtually untouched by the blaze.
The photo claimed that everything in the
bus caught fire except these 7 banknotes that bear His Majesty the King′s face, and encouraged
members of the public to share the photo to spread story about the miraculous event. A variation of
this photo earns 100,000 likes on its Facebook page.
His Majesty the King appears on the
front of every banknote type, and 1,000 baht banknote features Him on both sides of the note.
Many Thais revere His Majesty the King to the point of religious zeal. It is not uncommon to
see portraits of His Majesty the King adorning the walls of residence or in public transports like
religious icons, as many people worship and pray to the portraits, believing that they possess
supernatural quality.
This is not the first time portraits of His Majesty the King are
claimed to be fire-proof. Similar claims were made in several house fires incidents in the past, but
the association of the miracle with one of the worst bus accidents in many years – in which 15
people were thought to be burned to death – drew sharp rebukes from many internet users.
Some Facebooks wonder aloud why the miracle did not extend to survival of the victims on the
bus, while others criticize those who posted the photos of seeking attention and Likes for their
Pages.
Mr. Somsak Jiamteerasakul, the academic well-known for his outspoken criticism of
ultra-royalism in the kingdom, wrote on his Facebook that how the miracle manages to distract many
people from the real sorrow of 19 deaths illustrated how arbaric these individuals
are.
Suppose this kind of tragedy happens in Western countries and someone managed to find
unburned banknotes that featured the Kings or Queens [in those respective nations] then posted the
photo with caption that says ?Long Live the King/Queen?, what would be the public reaction? Mr.
Somsak asked.