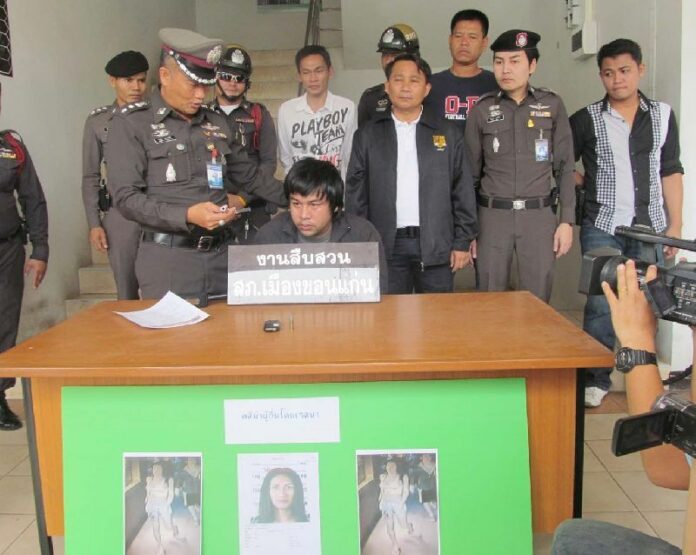 (26 July) Police in Khon
Kaen Province arrested a man for shooting a katoey dead with his pen gun, reportedly because
he was angry she touched his penis.
On the night of 14 July, police was called to investigate a scene
where the ladyboy was left injured on the side of the road with a gunshot wound on her
head.
The victim, Mr. Jatupol Rathaworabuth, 22, was later sent to Khonkaen hospital, but
died before she can get a medical help.

Mr. Jatupol's family told the police that the
victim, who preferred to be called by her nickname Belle when she was alive, went out on the night
before the incident with 4 other friends she met at a beauty school. Friends of Ms. Belle said that
they went to 99 Pub, but left later without her.
The police eventually found traces and asked
for arrest warrant of Mr. Anuchit Meetan on charge of muder. Mr. Anuchit was arrested
today.
The suspect confessed to the crime, telling police that Ms. Belle asked for a ride
home on the night from the nightclub. Mr. Anuchit, his friend and Ms. Belle then reportedly got on
his motorcycle, with him sitting in the middle.
He said that Ms. Belle was trying to flirt
with him and kept touching his penis while they were riding on the motorcycle. Enraged, Mr. Anuchit
asked his friend to stop the motorbike, and told Ms. Belle to get off before shooting the victim in
the head with a pen gun he carried with him.
He fled the scene and had been in hiding before
he was eventually arrested.