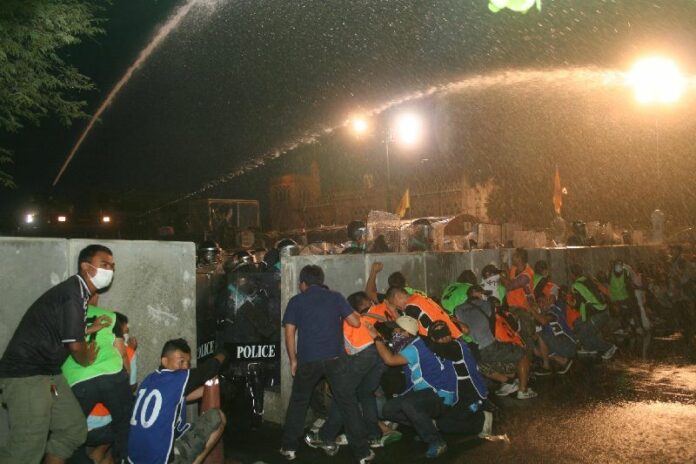 (29 July) Officials
played down concerns that a major anti-government protest – due to take place on 7 August – might
turn violent, insisting that the authorities are capable of handling the
situation.
Anti-government protesters had called for rally around the House of Parliament on
7 August in central Bangkok to voice their opposition to the draft amnesty bill which would be
debated in the Parliament on that day.
The draft, proposed by Mr. Worachai Hema, an MP of the
ruling Pheu Thai Party, would give amnesty to all protesters who were detained by the authorities
following the 2010 mass protests in Bangkok. The amnesty will not extend to the government leader at
the time – former Prime Minister Abhisit Vejjajiva.
The issue about legal prosecution of the
military forces involved in the crackdown, which left more than 90 people dead, is more dubious. The
draft did not mention the military, but Mr. Worachai insisted to the press that the military can be
brought to trial later after the bill is passed.
Nevertheless, the draft is enough to incense
anti-government faction, like the opposition Democrat Party and the Yellowshirts, which saw the bill
as an attempt to whitewash the Redshirts protesters? alleged crimes during the 2010
protests.
The last major anti-government protest, led by a retired army general, took place
in November 2012. That protest, initially declared to be decisive war that would bring down the
government of Prime Minister Yingluck Shinawatra, flopped badly and dispersed itself in a single
day.
Top officials expressed confidence that the upcoming protest is no more threatening than
the last. Ms. Yingluck, speaking before her trip to the African nation of Mozambique, said she
expected the protest would take place without violent incidents.
Meanwhile, Lt.Gen.
Paradorn Pattanatabutr, secretary-general of the National Security Council (NSC), said he expected
that the anti-amnesty protest would not be huge as the issue has not enough momentum and that the
leadership of the anti-government faction is plagued with
infighting.
Moreover, the movement still lacks concrete support from financial and political
backers, Lt.Gen. Paradorn said, adding that he did not believe any emergency powers would be needed
for the authorities in order to handle the protest.
Mr. Charupong Ruengsuwan, Minister of
Interior Affairs, said he had instructed Provincial Governors to
each understanding with local
residents who wished to participate in the upcoming Bangkok protests that they cannot close down
roads or disrupt the public during their rally.
Asked if he plans to obstruct the protesters
from entering Bangkok, Mr. Charupong replied that it′s impossible to do such thing.