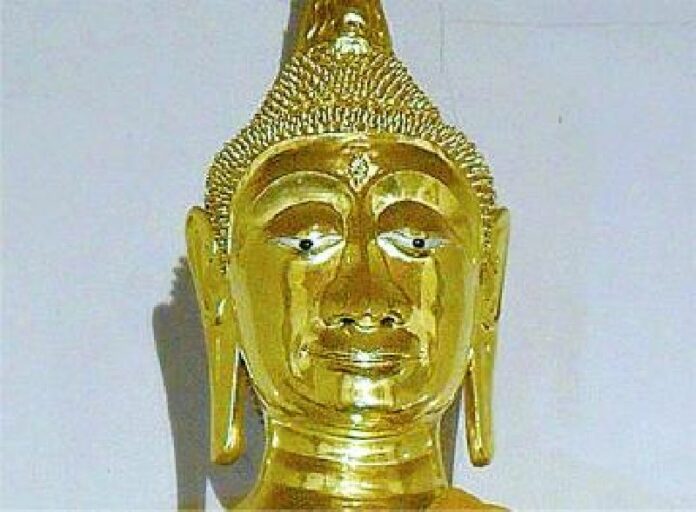 (29 July) Residents of
Bangplub District in Ang Thong province have contacted Khaosod to put this on the record on
their behalf: no, the Lord Buddha statue in the district′s famous temple is not
crying.
Previously, a number of media outlets has been circulating a story that Luang Por
Toe, the name given to a large Buddha statue in Wat Koh Temple, was seen with streaks of tear
on its cheek.
Moreover, story alleged that the supernatural gesture might portend certain
disaster that might befall on the community around the temple. Among the media reporting about the
incident is Thai Rath, the biggest selling newspaper in Thailand.
Phra Samruay
Kemthongrord, 71, one of the residing monk at Koh Temple, led our visiting correspondent to inspect
the giant Buddha statue – a large bronze artwork glistening with its gilded golden colour. Indeed,
no water or trace of any ear was found on the statue.
The monk explained that one of the
reporters who had visited the temple might have been misled by the reflection of light on the
Buddha′s face, which must have looked like streaking tear to unsuspecting observers.
He
pointed out that smaller statues, built with the same shiny bronze, also displayed the same natural
phenomenon.
Mr. Satit Chongkrathong, 68, who serves on the temple committee, told our
correspondent that the news report about crying Buddha has greatly damaged the temple′s
reputation. He said fewer people might visit the temple out of fear that the crying Buddha would
bring them bad luck.