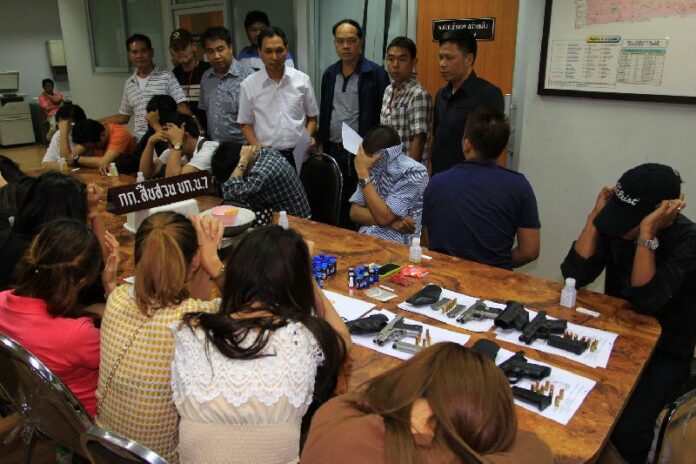 (29 July) Overnight party
of drugs taking and group sex organised by an amulet trader and his friends came to an end in the
afternoon when Bangkok police raided their motel room.
In all, the police arrested 8 male and
7 female suspects at the motel in Bangkok′s Bang Phlat District. One of the suspects, Mr. Wirach
Wattanapinyo, is a well-known ?Sian Phra? (Amulet Master), whose career is based on
collecting and selling rare Buddhist amulets, often at high price.
The police said 3 of the
female suspects worked as coyote girls, the sexily clad dancers who graced many entertainment venues.
The police
confiscated a large number of narcotics, mostly ketamine and ectasy, found in the room along with 4
handguns and box of condoms.
Pol.Col. Mathee Rakpan said the raid followed reports from a
local informant about a party involving illegal substance in the motel room. He said 7 of the
suspects were tested positive for narcotics, and the police would process other suspects in a more
elaborate tests.
The officer added that the guns were legally registered firearms, but none
of the suspects has the permit to carry the weapons.
Mr. Wirach, who operated the
amulet-trading website called Watchara Amulet, told police he bought the drugs for using with his
friends. He said he had organised such parties for more than 10 times so far.
The police
charged Mr. Wirach and other suspects with drug abuse.
Buddhist amulets (Phra Kreung)
are tiny tablets imprinted with images of Buddha and other religious figures. The ones manufactured
by revered monks or discovered in ancient temple grounds are highly sought after by amulet
collectors. It is not hard to find vendors selling these amulets on streets of Bangkok and other
major cities.
Famous amulets can sell for millions of baht. Many Thais also believe that
amulets possess supernatural power, such as deflecting bullets or generating wealth for the wearers,
thus making the amulet trade half-antique, half-superstitious industry.