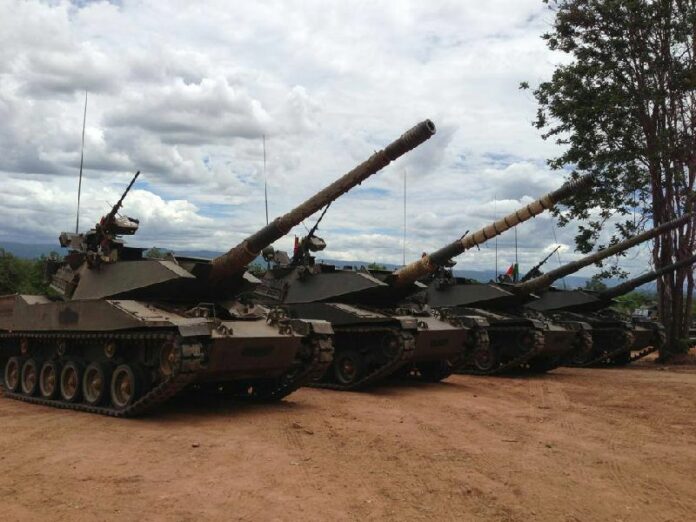 (2 August) The Royal Thai
Army has confirmed it was about to roll tanks onto streets of Bangkok, but don?t panic, this would
merely be part of a routine exercise, according to the statement released by the
army.
Apparently conscious of the rampant rumour about a possible military coup circulating
around the country, the army took pains to announce in advance the plans of various armoured
divisions to move their armaments for field work practice outside of Bangkok throughout the
month.
On 6 August, the 1st Division King′s Guard will move their armaments from 4th Cavalry
Division in Dusit district to Phahonyothin Train Station, via Kiak Kai intersection route, the
statement reads.The equipment will then be transported to Kanchanaburi Train Station.
The
troop will come back to Bangkok with their armaments on 17 August via the same route, it
says.
Later, the army announced, the 2nd Cavalry Division will move their armaments back from
the training ground in Lopburi Province to Phahonyothin Train Station on 9 August, before
transporting the equipment to the barracks on Kiak Kai Road and Sanam Pao area.
Another
series of maneuver will occur on 19 August, according to the army. On that day, the Antiaircraft Division will transport
equipments from their Pahonyothin Barrack to Kiak Kai Barrack by train, then continue toward Lopburi
Province on army vehicles. The armaments is scheduled to return to Bangkok on 23
August.

A spokeswoman of the military apologised for the inconvenience that may occur
from the transportation of troop and armaments.
"This is not a preparation for a coup
d'état", she stressed.
As anti-government protests were set to take place in Bangkok and
fears about possible unrest returned to the capital city, many are whispering that the military
might take advantage of the situation and put an end to the elected government of Prime Minister
Yingluck Shinawatra, similar to what had happened to her brother Mr. Thaksin Shinawatra in September
2006.
The rumours cited any unusual or unexplained development as evidence of looming coup,
including the trip of His Majesty the King and Her Majesty the Queen from Bangkok′s Siriraj
Hospital, where they had been receiving prolonged treatments for their illnesses, to their seaside
palace in Hua Hin District, Prachuap Khiri Khan province.
This is their first trip to the
palace, called Klai Kang Won, in several years, and Her Majesty the Queen had not been seen in
public for over a year. The rumours suggest that imminent incident in Bangkok had deemed it
necessary that Their Majesties leave the capital city for the time being. However, many dismissed
the rumour as far-fetched fantasy.