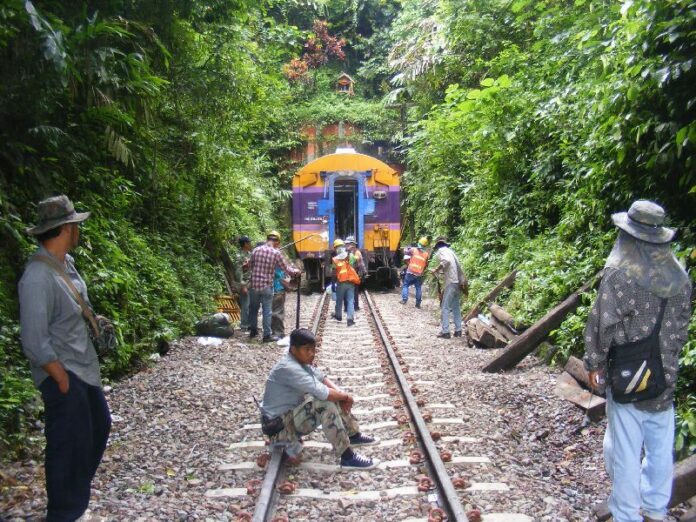 (3 August) Repeating the all-too-common railway accident in Thailand, a train headed from Bangkok to Chiang Mai province derailed as it was travelling in Khao Plueng Tunnel in Phrae province, briefly trapping some of its 415 passengers inside the tunnel.
The State Railway of Thailand said it had investigated the scene and found Coach No.6 and No.11 derailed just 2 metres away from the exit. Other coaches reportedly continued on their way.
Officials later rescued around 100 tourists – mostly foreigners – from the derailed trains inside the 380-metre long tunnel. No injury was reported. The stranded tourists eventually continued their journey either on other trains or buses provided by the authorities.
According to our correspondent at the scene, the railroad was already in a bad condition before the accident, as some of the wooden tracks were torn and nearly broke apart. Officials said they were currently investigating the true causes of the accident.
This accident caused the travel on Central-Northern Line Rail Services to come to a complete halt. Trains from Bangkok to the Northern provinces had to stop in Phitsanulok Province, Uttaradit Province and Phrae province, until the derailed coaches are carried to the Main Station in Lampang province for repairs.
Officials expected the salvage operation would last around 10 hours before the Northern Line can continue its service.
Train accidents are frequent in Thailand. Just last month, over 30 passengers, many of them foreign tourists, were seriously injured when their train derailed in the same province of Phrae.