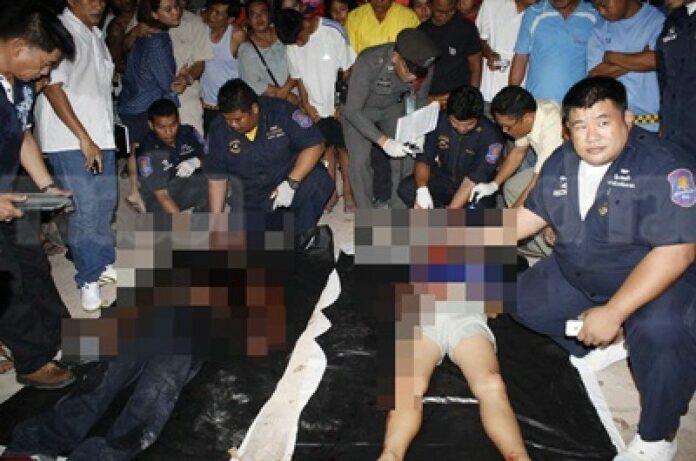 (6 August) A Navy officer
killed his ex-lover and committed suicide soon afterwards, witnesses and police say.
Police
in Chonburi province received the report about the incident a school in Banglamung District. In the
building behind the school, police found found bodies of Ms. Manita Rittlamlert, 30, a part-time
teacher at the school, and Petty Officer Prathan Sawangaron, 37, a navy officer from Sattahip
district.
A pistol was found in Po. Prathan′s hands, believed to be the weapon Po.
Prathan used to kill Ms. Manita before he shot himself to death.
Mr. Prakit Kalpakarnchai,
34, Ms. Manita's colleague, told the police that at around 18.30 he saw Po. Prathan barging into the
school, furiously looking for Ms. Manita. He later saw Po.Prathan arguing with Ms. Manita. He was
trying to convince her to get back into the relationship with him, Mr. Prakit said.
The
heated argument between the two, which lasted over an hour, was witnessed by many teachers and
students, according to Mr. Prakit.
Mr. Prakit then encouraged Ms. Manita to hide inside his
house, where she would be accompanied by another teacher, but the enraged Po. Prathan suddenly
followed Ms. Manita inside and locked the door.
The last words they heard from Ms. Manita was
when she cried Please…. Please don?t do this, followed by 2 gunshots.
Police said
investigation revealed that Ms. Manita and Po.Prathan broke up a month ago after Ms. Manita found
out that he was having an affair. Po. Prathan then tried to convince Ms. Manita to date him again
for several times, and even caused car accidents twice, until Ms. Manita called the police to handle
his act.
Po. Prathan then reportedly promised he would never cause any trouble again, but he
eventually decided to end the relationship in tragic way.