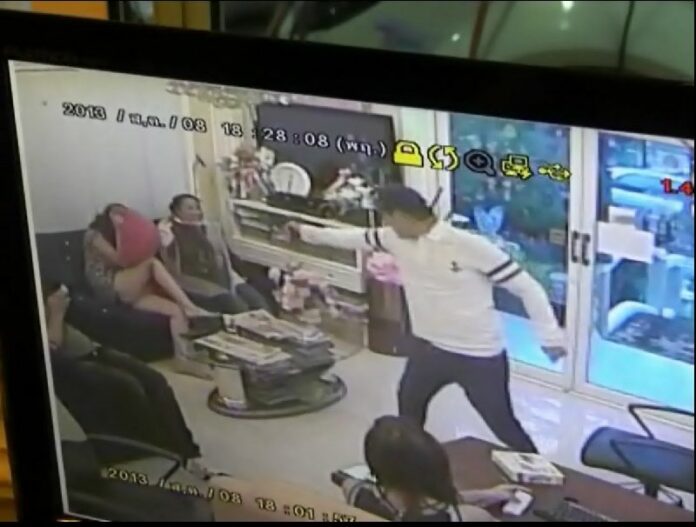 (13 August) After nearly
a week of intense dead-or-alive manhunt, Thai police finally arrested a man who shot dead his
fiancée and her mother, then shook his bottom merrily as he left the crime scene.
The
suspect, identified by police as Mr. Thanet Haegan, killed the 2 victims in front of his 2 friends
at BS Modify, an automobile workshop located in Mueang District of Chonburi Province on 8
August.
The whole incident was captured on CCTV camera. The footage showed the moments when Mr.
Thanet, sitting on a stool in front of his fiancée and his soon-to-be mother-in-law, suddenly stood
up after a heated argument with them and shot both victims dead.
To many, the most disturbing moment was when Mr. Thanet briefly danced, shaking his bottom, as he calmly left the
workshop – a gesture that made him instantly known as the ?Butt-Shaking Murderer?.
The
police immediately issued a wanted notice on Mr. Thanet, describing him as armed and extremely
dangerous. The notice also authorised the officers to use deadly force against him.
The
victims were identified as Ms. Kewalin Hongthong, 28, and her mother Ms. Wimon Hongthong. Video
footage showed that Ms. Wimon tried to flee the scene but was stopped and shot dead by Mr.
Thanet.

Yesterday (12 August), the police finally got its hand on Mr. Thanet, after Cambodian authorities extradited him to the Thai authorities. Reports indicated that Mr. Thanet
had been hiding in Banteay Maenchey province of Cambodia before he was recognised by the Cambodian
police.
Mr. Thanet confessed that he had committed the crime. As for his motive, he said he
had been pressured by the victims? family who requested a hefty sum of dowry from
him.
According to Mr. Thanet, Ms. Kewalin′s family demanded 2 million baht in cash and a car,
which Ms. Wimon reportedly said she wanted Mr. Thanet to drive Ms. Kewalin to the
university.
Mr. Thanet also denied that he did not mean to insult anyone when the camera
recorded him shaking his butt after he shot both victims.
Media reports have previously said that Mr. Thanet shot his girlfriend and her mother after he accused Ms. Kewalin of talking
to other men on Facebook, and that he committed the murder out of rage and jealousy.
Mr.
Narong Hongthong, Ms. Kewalin′s adoptive father, later objected to Mr. Thanet's claim, stating that his
family only asked for a 480,000-baht-worth dowry.
He told our correspondent that Mr. Thanet
initially offered 600,000 baht as dowry, but Mr. Narong disagreed because he believed number 6 was
an unlucky number, and later proposed the amount of 480,000 baht. He also insisted that his wife
never asked Mr. Thanet to buy any car.
Meanwhile, Mr. Arom Nantachalakornkit, Ms. Kewalin′s
biological father, said that his daughter had consulted him about Mr. Thanet's behaviour prior to
the incident, saying he acted violently whenever he was angry.
Mr. Arom said he saw Mr. Thanet
as nice and modest. He said he often went out for clubbing with Mr. Thanet, so he was quite close to
Mr. Thanet. Mr. Thanet had also vowed to take good care of his daughter, according to Mr. Arom.
It is
not clear what Mr. Thanet does for a living. Mr. Arom refused to tell our correspondent what Mr.
Thanet′s occupation is, but police officers said they suspected that Mr. Thanet may be involved in
the drug smuggling circle in Chonburi Province.
Mr. Thanet, according to the police, owns several assets, cars, and large amount of money in his bank accounts even though he is unemployed.
Additionally, Mr. Thanet has bought property under other people's names, including the house for
his future family worth 5 million baht, police said.

Although the case shocked much of
the Thai public, domestic violence is in fact widely common in Thai society. According to statistic
from Office of Women′s Affairs and Family Development, 461 cases of domestic violence between
married husband and wife alone were reported throughout 2010.
However, experts have
warned that the data might be under-reported as many Thai women believe it is shameful to talk about
such issues to anyone outside the family, so many cases of domestic violence are not recorded by the
authorities.
Even so, one does not need accurate statistics to highlight the prevalent problem
of domestic violence in Thailand. News reports frequently documented cases in which suspects harmed
or even killed their lovers or ex-lovers in emotional disputes.
Just today, a taxi driver
reportedly stabbed his wife to dead in Sam Pran District of Nakhon Pathom Province after he
discovered that she had been chatting with other men on her smartphone.
A witness told our
correspondent that Ms. Wassana Srisalai, a 30 year old factory worker, was arguing heatedly with her
husband Mr. Wijint Thongsuwan, 31, about the matter. Mr. Wijint was trying to grab her phone before
he suddenly stabbed Ms. Wassana with a knife, the witness said.
Mr. Wijint also stabbed
himself in the neck afterwards. He is being treated in hospital.
Police investigation
suggested that Mr. Wijint was jealous of Ms. Wassana′s relationship with other men, and he later
learned about a romantic chat between his wife and a man, whose name believed to be ?Pao?.