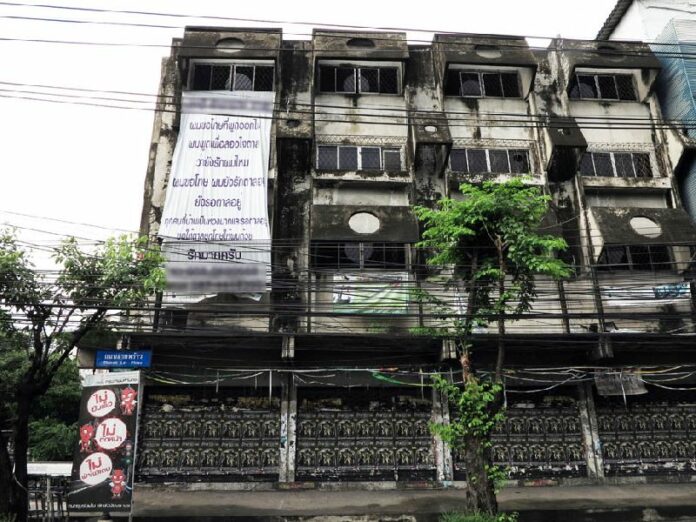 (13 August) Billboards
advertising various products grace the landscape of Bangkok metropolis, but many commuters would
surely have been struck by one peculiar signboard on the busy Ladprao Road.
The billboard,
which occupies an entire length of a 3-storey block of building on Soi Ladprao 101, bears a message
of a man pleading his ex-girlfriend, identified by the sign as ?Tarn?, to come back to
him.
According to the sign, a man who identified himself as ?Mr. A? is very sorry for having
said that to you. I just said it to test if you still love me.
I am sorry. I still
love you and still wait for you, Tarn, the message continues, Everybody at home is worrying about
you. We are waiting for your return. I wish you could forgive me. I love you so much
In the
last two lines, the man gave the telephone numbers of him and – strangely enough – Ms. Tarn. The
full name of Ms. Tarn was also written on top of the billboard.
Khaosod correspondent
later contacted the woman, who admitted that she had indeed dated the guy, but has not seen the sign
herself.
Ms. Tarn said she was aware of the billboard because she has been contacted a few
times by people who saw her telephone number on it: once from a commuter who called her to say she
wished Ms. Tarn could reconcile with Mr. A, and the other was a man who asked if he could buy the
building where the billboard was posted.
As for Mr. A, Ms. Tarn said that they had separated
several months ago. Now that he is doing this [placing a billboard asking her forgiveness], it got
me wondering: why did he not do better while we were still together? Ms. Tarn said.
She told
our correspondent she was the one who decided to end the relationship, and does not think that she
had been letting everybody worried about her, contrary to what the billboard suggested.
I
work in Bangkok but I have been in contact with my family in Petchabun Province all the time. They
have nothing to worry about, Ms. Tarn said, adding that the billboard′s text is misleading because
it gives perception that she has run away from him.
When our correspondent asked if she is
going to take any legal action against the man, she said I do not wish to cause any trouble, but I
will ask him to remove the sign.