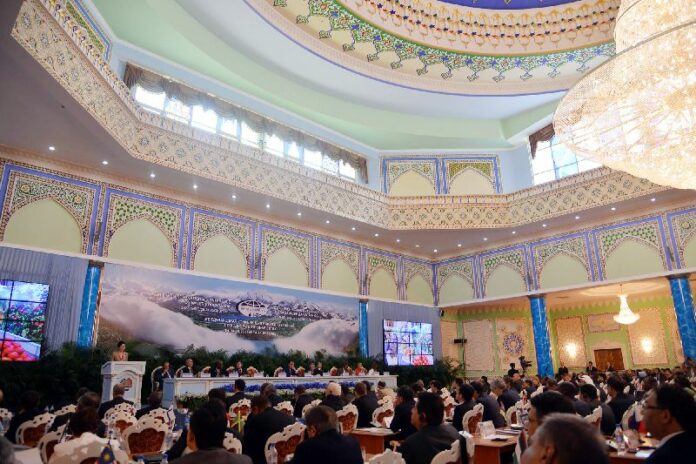 Thai Prime Minister Yingluck Shinawatra delivers her
speech during  at the High Level International Conference on Water Cooperation Dushanbe,
Tajikstan on August, 20 2013
Yingluck said the Chiang Mai Summit in Thailand in May, the Dushanbe Conference today and the Budapest Meeting in October, reflect rising urgency and the political will of all parties to come together to cooperate on water issues.
On our part, Thailand is fully committed to join Finland,
Hungary and Tajikistan at the United Nations, as the Steering Committee of the Group of Friends on
Water, to work on building new initiatives and put together a viable plan of action.
It needs no reminding that water is the source of life and mankind's most
precious resources.  Without water, there is no life. Therefore, access to water is a basic
human right, which is the duty of any government to protect without
excuses.
But sadly, the fact remains that almost a billion people in this
world still do not have access to clean water.  The World Water Development Report predicts
that 47 percent of the world's population will be living in areas of high water stress by 2030.
Scarcity of water is set to be the cause of future political conflicts and
war.
And with climate change, water brings about natural disaster and
destruction through floods and tsunamis. According to the World Meteorological Organization (WMO),
the future will be one of rising global temperatures and changing sea levels.
We cannot live in fear of the natural disasters. We must work
together to take this face these challenges before it is too late.
I believe the
key principle is to restore the earth's ecological balance. Economic development must be built upon
this principle to ensure sustainable growth and progress.  Each nation needs to implement a
balanced water management program.
Each sub-region must cooperate to
manage shared resources.  Regional cooperation bodies must put this issue on their priority
agenda.  Only then, will what we are discussing here, at the UN and elsewhere, can become
reality.
Sometimes when we seek water security, there can be some
disagreements on approaches and ideas. However, difference in ideas can lead to better solutions as
long as parties concerned put common interest above all and do not use water issues for political
gain.
What is needed is for all of us to find the right balance between protecting
the ecological system and economic development
In Thai, we have a
word "Nam Jai" or "Water from the Heart", which means compassion or caring for one another. We need
to approach water issues based on these values, by coming together as part of humanity and caring
for how water affects each other.  Because if we do not come together to ensure water security
now, ultimately it is the common people who suffer.
Our generation must do
more to preserve this precious life resource for future generations. We cannot waste any more time.
I stand ready to work with all of you to preserve humankind.