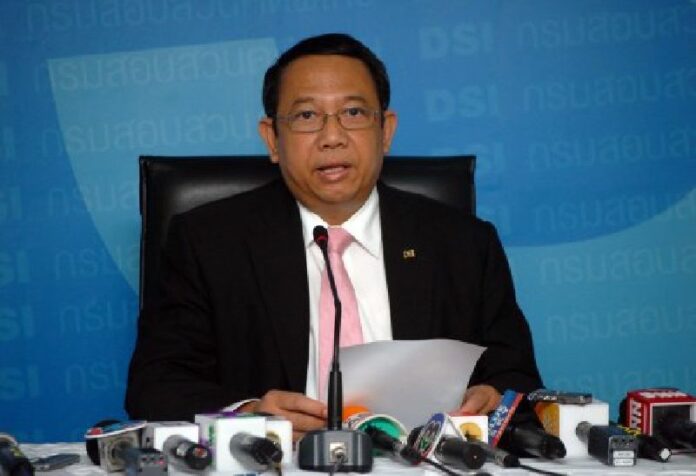 (21 August) The Division
of Special Investigation (DSI) is launching an inquiry into a private medical firm that allegedly
provides unsanitary health check-ups to school students, namely conducting blood tests by using the
same syringe.
Mr. Tharit Pengdit, chief of the DSI, said he had received many complaints
about one such ogus check-up at Saraburi Wittayakhom School in Saraburi Province, where the firm
reportedly employed uncertified personnel and used unclean medical tools throughout the
check-up.
In the blood tests at that school, he said, many students and their parents had
witnessed the medical team reusing the same syringe several times, prompting concerns that the
practice would lead to infection of blood-borne diseases, particularly HIV, Hepatitis B, and
Hepatitis C.
Many also complained to him that they received inaccurate eye-test results,
while some said they had been identified as having Type A blood even though they belong to different
blood types, Mr. Tharit added.
According to the DSI Chief, the firm has been contracted to
perform annual health checks for over 80 educational institutions and business organisations across
the country. Mr. Tharit estimated that nearly 80,000 people had undergone annual health checks with
the company.
The name of the company was not identified by the DSI.
Mr. Tharit said the
DSI is gathering all the information about the firm. The company might be charged with fraud for
performing health checks without qualified medical staff or hygienic equipment, he said, and it
might also be charged with bribery; Mr. Tharit suspects that the firm has illegally won many
contracts.
"If it is clear that the team had cause harm to many people's health and bribed
the schools for their contracts, the DSI will advance the case into the special investigation." Mr.
Tharit told our correspondent.
In June 2012, police in Tak Province arrested a number of
staff working for a private company which had been conducting health checks in a university in that
province. The arrests followed complaints from students that the staff reused the syringes many
times.
The staff were charged with practising medical services without certification. It is
not clear whether the company is the same one currently being investigated by the DSI.