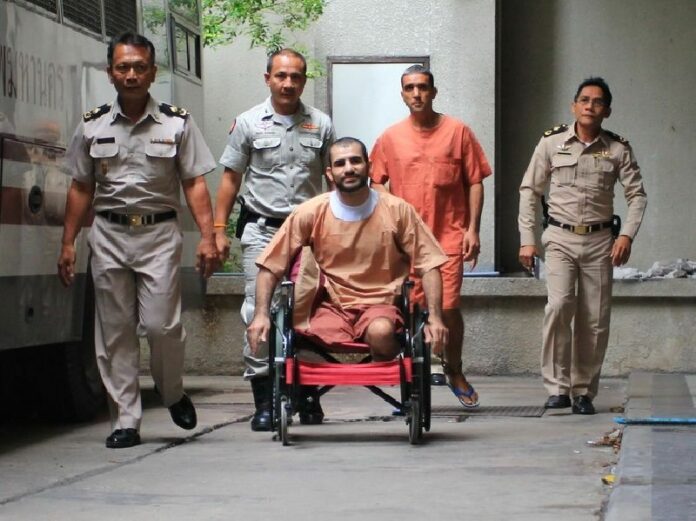 (22 August) The Criminal
Court found 2 Iranian nationals guilty for the explosion and grenade attack in Bangkok on
Valentine′s Day last year.
On 14 February 2012, an explosion occurred at a house in Soi Pridi
Banomyong 31. A group of Iranians was seen fleeing the scene shortly afterwards, and one of the
suspects reportedly threw several hand grenades at the pursuing police officers to elude the
chase.
However, the grenade bounced and severely wounded the man, Mr. Said Moradi, severing
his left leg and blinding his right eye. The other suspect, Mr. Muhammad Hasai, was arrested later
that evening at Suvarnnabhumi Airport. He was said to be headed for a flight leaving Thailand.
Others had fled the Kingdom.
The prosecutors have previously told the court that the 2
Iranians had rented the house from 19 December 2011, where they were attempting to build a number
of explosive devices. On 14 February, the prosecutors said, the bomb prematurely exploded, possibly
due to a faulty assembly.
The explosion and subsequent grenade attacks injured many people
and caused damages to various properties and vehicles, the court was told.
The 2 suspects previously argued that they did not know the bombs were stored in the residence, and one of the
devices only exploded when they found and tried to dispose of them.
As for the grenade
attack, Mr. Moradi said (via an interpreter) he was frightened by the police and accidentally
dropped the explosives.
Today the court ruled against the suspects, declaring them guilty of several charges, such as causing explosions, threatening lives, and violating the laws on explosive
ordnance.
Mr. Moradi was given a life sentence, while Mr. Hasai was sentenced to 25 years in
jail. The pair was also ordered to pay compensation to owners of properties damaged by the
explosions.
The incident in February 2012 coincided with reports that Iranian authorities
were coordinating a plot to strike at Israeli targets in many countries, including Thailand. Attacks
against Israelis also occurred in India and Georgia. The Iranian government has denied any
connection.