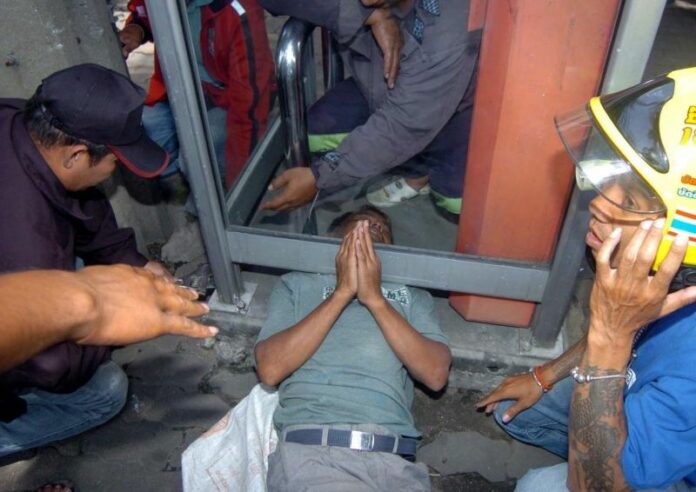 (26 August) Rescue
workers saved a man who had his head stuck inside a telephone booth in Bangkok as he sought to seek
shelter from the rain earlier.
Mr. Songsak Charoenchai, 46, was still heavily intoxicated
when the rescue workers arrived at the telephone booth in Bangkok Yai District where he had been
screaming for help. The workers used screwdrivers to free him from the 15-centimetre high gap
between the ground and the booth′s wall.
After he had been freed, Mr. Songsak told our
correspondent he was from upcountry and had been looking for work in Bangkok for 7 days. Last night,
he said, he was drinking to the point of intoxication when he noticed that it was going to
rain.
Mr. Songsak was afraid his head would be wet from the rain and he would catch a cold,
he explained, so he lay down and tried to insert his head into the telephone booth. He fell asleep
soon afterwards and woke up to find that he could not get his head out.
He did not explain why he did not just walk into the telephone
booth.