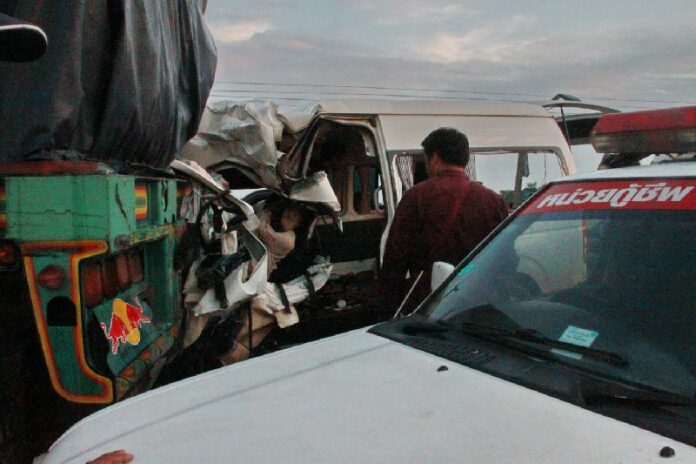 (26 August) A van crashed
into an 18-wheeler truck this early morning at the border of Prachinburi Province and Chachoengsao
Province, killing 9 and wounding 7.
Reportedly, the van, which belongs to the Minivan
Association in Prachinburi Province, was headed to Bangkok in an early hour of 04.00.
At the
scene, the 18-wheeler truck was parked on the left side on the road and occupied nearly half of the
left lane. Presumably, the van, travelling with high speed, then suddenly collided into the back of
the truck.
9 victims were pronounced dead at the scene, while 7 people were admitted to Bang
Nam Preow Hospital, including the van driver, Mr. Anusorn Srichai.
Police said they had taken
the 18-wheeler truck driver, Mr. Wiroj Wongkod, 30, into custody. He claimed that his truck had
broken down, forcing him to park on the road and obstructed the traffic.
This minivan is one
of thousands minivan in services operated without proper license, police said. It was also carrying
more passengers than what the laws have allowed.
These illegal vans have engaged in many
accidents before, sometimes deadly. The drivers often drive recklessly and travel on shady detours
instead of the main roads.
Mr. Chatchart Sitthipan, the Minister of Transport, also visited
the scene of the accident later and said the Ministry is planning to bring thousands of such
illegally-operated vans across the country into some sort of license or regulation program, in the
hope to provide safer services.
However, he acknowledged that the regulation plan might
cause some negative effects, such as overcrowding of such vans on the roads and hazardous
competition between different companies in search for passengers.