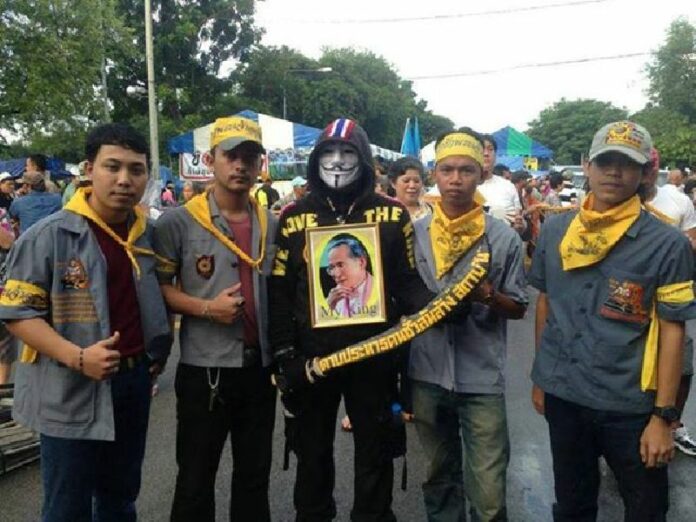 (28 August) The Minister
of Education, Mr. Jaturon Chaisaeng, has chaired a meeting with other officials to discuss possible
actions against the vocational students who joined the anti-government protests in Lumpini Park and
attacked a group of Redshirts earlier this week.
The meeting at the Ministry was joined by
officials from Vocational Education Commission (VEC).
Hundreds of vocational students from
various polytechnic colleges have joined the protest at the park in central Bangkok which is
organised by the People′s Army Against Thaksin′s Regime.
The protests had been relatively
peaceful, but on Sunday around 70 students rushed out of the park and attacked a group of Redshirts
who were returning from their rally in Victory Monument, pelting them with rocks and other objects.
The Redshirts have filed charge against the students.
However, Mr. Jaturon was informed by
the VEC at the meeting that the students who attacked the Redshirts were in fact alumni of their
colleges. Some graduated long ago, while others were expelled, the officials said, adding that all
of these students had records of violent behaviour during their college years.
Nevertheless, the VEC is also designing procedures to
prevent the enrolled students from falling into a trap laid by ill-wishers who might exploit them
for political gains, according to the officials. They said the vocational students also tend to
believe what the senior students told them.
The graduated seniors and those who didn?t make
it to the graduation tried to meet with the current students, claiming that they wanted to give a
lecture on global warming, job application, and further education, but what they did was mobilising
them for political protests, said one official.

Mr. Akanit Klangsaeng, deputy secretary of the VEC, said that the VEC has submitted a
warning to vocational colleges to make it clear to the students that protesting is allowed by
the Constitution, but claiming to represent their colleges would harm the reputation of those
institutions.
Meanwhile, Mr. Bandit Sribuddhangkul, deputy secretary of the Private
Education Commission (PEC), said that some private vocational colleges have indicated they would
file charges against the students at Lumpini Park who claimed to represent their institutions during
the rally.