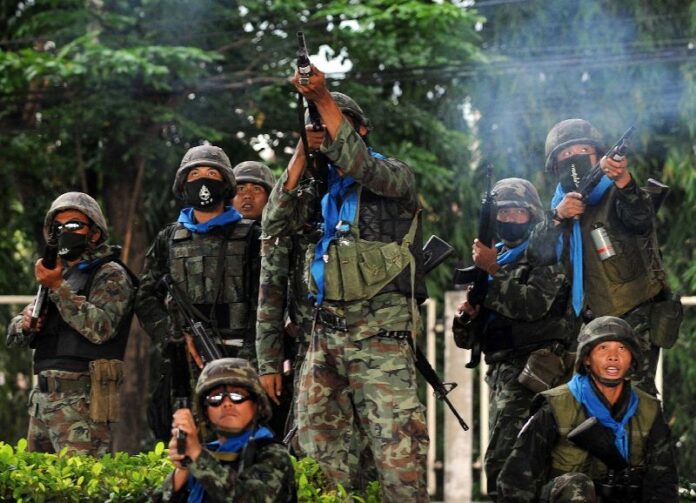 (4 September) The
Division of Special Investigation is pushing for further investigation on the 28 deaths which the
agency believes were caused by the Thai security forces during the 2010 crackdown.
The violence in
April-May 2010, which saw the Redshirts protesters occupying parts of Bangkok and the subsequent
military operations to dislodge them, has claimed over 90 lives.
Most of the deaths were
civilians including the protesters, foreign journalists, volunteer medics, and rescue workers, while
some soldiers were also killed.
Although the military has repeatedly denied any involvement,
court inquests have so far linked the military to several deaths in 2010, such as the 6 individuals
who were shot dead inside a safe zone temple and the Italian photojournalist Fabio
Polenghi.
Now, another 28 deaths might be confirmed as result of the military operation, as
the DSI has already forwarded the cases to the Bangkok Metropolitan Police for a more thorough
investigation, according to a senior official.
The move reportedly follows an internal
investigation by the DSI which have found evidence that the military had shot these victims to
death.
Once the additional investigation by the Metropolitan Police is completed – estimated
to be within next week – the prosecutors would bring the cases to the court for the inquests about
the circumstances of the 28 deaths, the official said.
Of the 28 cases, 11 deaths occurred
around Ratchadumnern Avenue when the military attempted to disperse the protesters? encampment there
on 10 April 2010.
The rest of the deaths took place during the clashes between the Redshirts
and the military as the security forces were besieging the Redshirts? camp sites in central Bangkok
in May 2010; 8 were killed around Rama IV Road and another 9 were killed in the vicinity of
Ratchaprarop Road.
Meanwhile, a witness testified to the Criminal Court during an inquest on
a Redshirt killed on 14 May 2010 that he was shot dead by soldiers in Lumpini Park.
Mr.
Nattapol Tongkul told the court he was serving as a security guard for the Redshirts, and he was
standing with the victim, Mr. Prachuab Silapan, when they heard series of gunshots from the
direction of the Japanese Embassy.
The witness said he and Mr. Prachuab rode on motorcycle
along Wireless Road toward Lumpini Park, where he saw large number of the soldiers armed with M16
rifles.

Upon hearing that someone had been
shot in the park, Mr. Nattapol told the court, he and Mr. Prachuab decided to rush to help the
wounded victim, but the soldiers shot at them, causing them to fall off from the motorbike. Mr.
Nattapol was injured in the hand, while Mr. Prachuab scrambled to take shelter behind a
tree.
Mr. Nattapol said he shouted at Mr. Prachuab to run away, but he was shot dead by the
soldiers as he attempted to flee. The witness insisted he saw no ?Blackshirt? militant in the area,
and said neither he nor Mr. Prachuab was armed at the time.