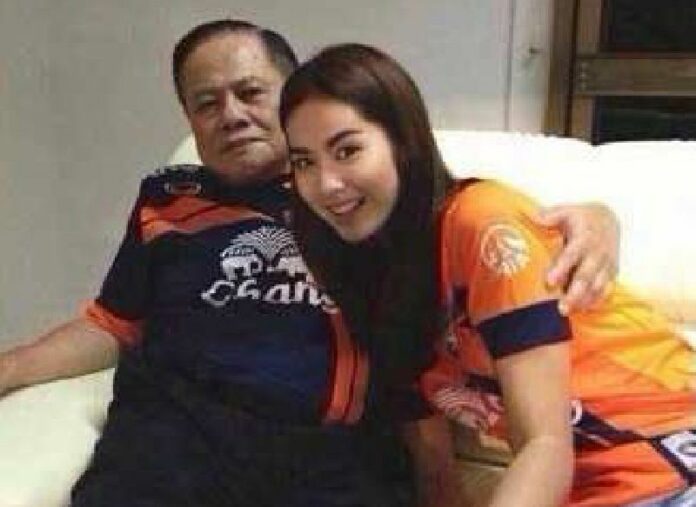 (12 September) A young
actress and TV personality has filed complaint with the police after rumours on the social network
alleged that she is a mistress of former Prime Minister Banharn Silpa-Archa.
Previously, a
photo showing Mr. Banharn placing his hand on the back of the actress, Ms. Sornslip ?Manao?
Maneewan, started circulating on social network sites, and the rumour about their supposed romantic
relationship quickly followed.
Ms. Sornsilp is well-known for her roles in drama series
produced by Channel 7.
The picture was later reposted along with a text alleging that Ms.
Sornsilp is Mr.
Banharn′s minor wife (mia noi), and she had caused marital discord which ended up driving drove Khunying
Jamsai, Mr. Banharn′s wife, away to the Buddhist nunnery.

Speaking to the press yesterday, Ms.
Sornsilp, who had won the contest of Miss Teen Thailand in 2008, explained that she had been a
friend of the former Prime Minister′s family for quite a while now, and that she respects him
personally because Mr. Banharn is an icon of Suphanburi Province – her hometown.
Later, the
21 year old actress visited Bang Sue Police Station in Bangkok to file a legal complaint to the
officers and urge them to find the suspect who initiated the rumours.
I was very shocked
when I first saw the photo and the text said the actress, I would like to know who′s behind it,
what they want, as their post had defamed my family and Mr. Banharn.

Meanwhile, Mr. Banharn dismissed the rumour and insisted that the photograph
has been used as a political tool to damage his reputation.
He also clarified about the
origin of the photo, saying that it was taken during the football match of Suphanburi FC and Buriram
United in the stadium′s reception room. Many other people were present in the room as well, Mr.
Banharn said, including Toon, the lead singer of the pop-rock band Bodyslam.
I took
photograph with Toon, too. I placed a hand on his knee. Why didn?t they post that photo, too? Mr.
Banharn told the reporters.
He added, I don?t know why they only posted the photo of him
and Ms. Sornsilp, do they want to discredit me?
Mr. Banharn said many people had asked to
take photos with him in Suphanburi, old women, young women, but lamented that from now on he would
be more careful with requests for photos.

Asked about his wife, Khunying Jamsai,
Mr. Banharn cheerfully replied that she′s well at home.
He also stated he would not pursue a
legal action against those who started the rumour because what happened is common issue.