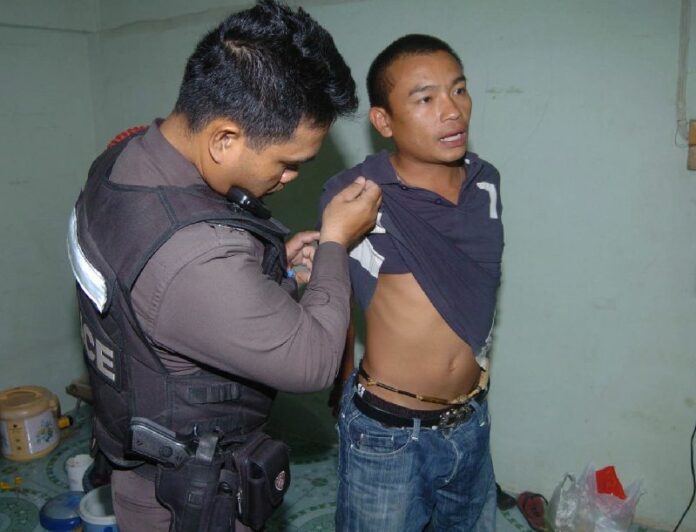 (18 September) The police
have arrested a man who abducted a karaoke bar waitress from her workplace, much to the dismay of
the patrons, to rape her in his room.
According to witnesses, Mr. Somwang Ja-er, 23, and his
male friend Mr. Yutthana Jenjaeng, 30, were drinking at the bar in a Bangkok suburb in the early
morning of 17 September. The pair reportedly attempted to flirt with the victim, a 16 year old
waitress, who refused to respond to their gestures.
Suddenly, the patrons said, Mr. Yutthana
and his friend got up and hauled the victim, who struggled in vain against the pair, onto their
motorcycle, then drove away. Friends of the victims immediately mounted their motorbikes and
attempted to chase after them.
Later, the victim′s friend spotted Mr. Yutthana′s motorcycle
in front of an apartment building, so they proceeded to call the police. Once the 2 suspects saw the
police arriving at the flat, they let go of the victim, and Mr. Somwang successfully escaped from
the scene, leaving Mr. Yutthana to be arrested by the officers.
The police also uncovered a
set of instruments used for taking methamphetamines.
Mr. Yutthana told police he knew
Mr. Somwang from their time in prison, where they were jailed for narcotics crimes. Mr. Yutthana
finished his jail term in April, while Mr. Somwang finished his in June.
The suspect said he
and Mr. Somwang had been taking drugs earlier in the night and became sexually aroused. The pair
wanted to find a prostitute, Mr. Yutthana said, but they had no money, so they attempted to convince
the victim to sleep with them, and decided to abduct the victim once she refused.
A friend of
the victim, who also works at the karaoke bar, informed the police that she had been also kidnapped
and raped by Mr. Somwang, Mr. Yutthana, and a friend of theirs. She said she had been detained in
the room for a day.
According to the woman, she did not file charge against the suspects
earlier because she was afraid she would be intimidated by them.