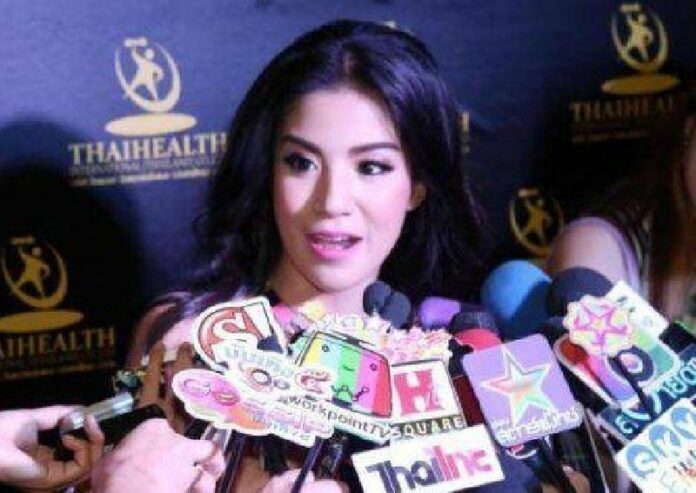 (18 September) Pop-country singer ?Baitoey R Siam?, best known for her
viral hit ?Splash Out?, has admitted having performed for former Prime Minister Thaksin Shinawatra
in Singapore and Hong Kong.
The singer, whose real name is Ms. Sutheewan Taweesin, talked to
the press after attending an event at Central Ladprao shopping mall earlier today. She was
addressing a report published on a certain celebrity gossip magazine which had alleged the ties
between the singer and the influential former leader.
?Baitoey? said she had indeed performed
for Mr. Thaksin, but clarified that she had taken the job via her company and that she had not been
personally invited by the former Prime Minister.
Mr. Thaksin has an amicable relationship
with her contracted company, RS, and he has hired other singers of the company to entertain him
before, according to ?Baitoey?, the singer behind the famous song ?Splash Out? (?Feeling Tight
In My Chest?) which has gone viral due to its distinctive dance move – the Thai answer to
?Gangnam Style?.
The singer denied rumour which suggested she is Mr. Thaksin′s mistress.
Ms. Sutheewan said she had performed in Mr. Thaksin′s presence twice: once in Hong Kong, at
a banquet where a number of politicians flew in to visit Mr. Thaksin, and Singapore. The
performances dated back to 2012, Ms. Sutheewan said, and other singers were there as
well.
When I performed and attended the banquets, I sat at the same table
with Mr. Thaksin, and we have talked a bit. From the chats, I felt Mr. Thaksin is a good man,
?Baitoey? told the press, He wasn?t familiar with any of my songs, because he had been abroad
for many years
She added, I sympathised with him because he missed Thai music and wanted to
return to his homeland. I did my duty to make him feel he was back in Thailand.
Asked if she
has been paid 1 million baht per event as the rumour has claimed, Ms. Sutheewan said she had been
paid 500,000 baht, plus other perks such as a shopping tour.
However, she insisted that she
had brought the brandname bags by her own money, not Mr. Thaksin′s.
Mr. Thaksin
remains a controversial figure in a deeply polarised Thailand; and connections to Mr. Thaksin have
previously landed a comedian in an unwanted spotlight. The comedian, Teng Terdterng, was criticised
by anti-Thaksin critics for attending a birthday party of an ally of Mr. Thaksin.
Figures in
the entertainment industry also generally avoided identifying with the colour politics that has
plagued Thailand for years, out of concern that the political affiliation would invite
controversies.
Ms. Sutheewan stressed the point, saying she did not want the public to see it
as a colour issue.
It is my responsibility to make people happy. There is no colour issue
here. Work is work, the singer said, If you ask me whether I want to take the job again, I have
told Oak [Panthongtae Shinawatra, Mr. Thaksin′s son] I would love to, because it was a happy job and
I enjoyed it a lot.