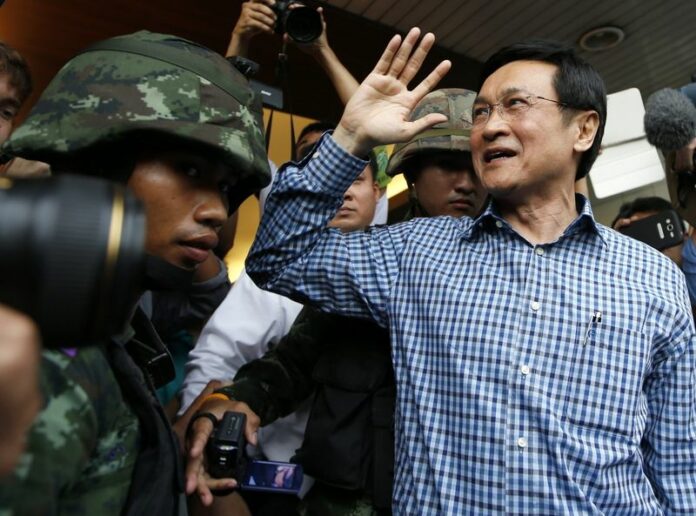 By Peter Janssen (DPA)
BANGKOK
—
A former minister in Thailand's ousted government was arrested in front of more than 100 foreign journalists and photographers Tuesday, after openly defying a summons by the country's military rulers to turn himself in.
A dozen soldiers and police escorted former education minister Chaturon Chaisaeng out of the Foreign Correspondents' Club of Thailand (FCCT) shortly after he challenged the military government that seized power on Thursday.
"I am willing to be arrested and to defend myself in court," Chaturon told a packed audience at the FCCT minutes before his arrest.
He faces up to two years in jail for defying a Friday summons to turn himself in within 24 hours.
Chaturon, a senior member of the Pheu Thai party that led the former government, called the coup an "abrogation of democracy" that was likely to lead to further conflicts rather than restore order as the army intended.
"I think the intention of the coup makers is to keep power for a long time," Chaturon said. "But they will face a lot of resistance from the Thai people and the international community."
Hundreds of anti-coup protesters staged demonstrations in Bangkok over the weekend, leading to tense standoffs with troops.
Army chief General Prayuth Chan-ocha seized power after seven months of anti-government protests that led to violence and a political stalemate.
Since coming to power he has imposed martial law, a curfew, censorship of the press and summoned more than 200 people, many of whom remain under detention in army bases.
On Monday he received a royal endorsement as the head of the junta.
Chuturon and former justice minister Jarupong Ruengsuwan were the only ministers in the ousted government who refused to respond to the the junta's summons.
"I will go on fighting for democracy for Thailand but I will put all my efforts towards struggling for democracy peacefully," said Chaturon.
Chaturon was a student leader in the 1976 anti-military protests in Bangkok that ended in bloodshed and an army purge of alleged communists and left-wing radicals.
Chaturon spent 1976 to 1980 in the jungle with members of the Communist Party of Thailand (CPT) before giving himself up under a government amnesty.