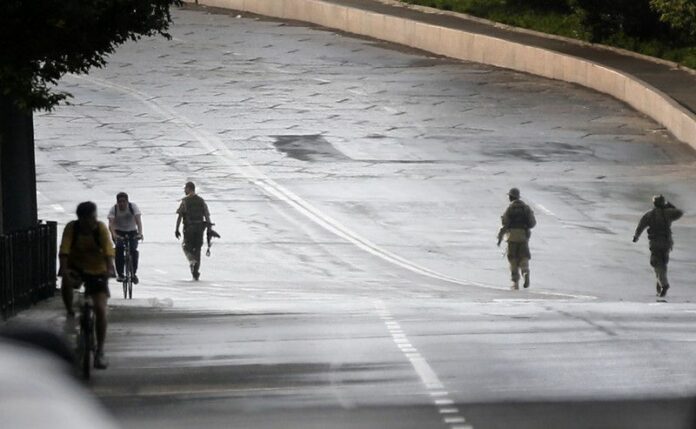 By Nikolaus von Twickel (DPA)
KIEV — Ukrainian government forces continued their fight against pro-Russian separatists on the outskirts of Donetsk Tuesday, after dozens of people were said to have been killed in heavy clashes the day before.
"The anti-terror operation in Donetsk continues until all terrorists are destroyed or have given themselves up," local media quoted Olexiy Dmytrashovskyi, a defence ministry spokesman, as saying.
Dmytrashovskyi said that no less than 200 separatist fighters had been killed during Monday's fight over the city's airport. The rebels denied the figure's accuracy.
Pavel Gubarev, the self-declared "people's governor" of Donetsk said on Facebook that 35 people were killed and 15 injured Monday when troops fired at a lorry carrying injured fighters from the airport to a hospital.
Interior Minister Arsen Aavakov merely said that the rebels suffered substantial losses while government troops suffered none.
Unknown gunmen on Tuesday stormed the Donetsk ice hokey stadium and set it on fire. The Druzhba arena was reconstructed in 2010 and has a capacity of 4,000.
The fighting marred the election victory of Pavel Poroshenko, who late Monday was declared the winner of the presidential election that took place the day before.
Poroshenko has said that the military campaign against separatists should last hours and not months, while promising to reach out to the people of eastern Ukraine and to Russia.
The Ukrainian government accuses Russia of covert support for the fighters, many of whom are believed to be from Russia.
The Ukrainian border guard service said Tuesday that a column of lorries and vans with armed men illegally crossed the border from Russia during the night. One of the men was seriously injured in an ensuing firefight with border guards, the statement said. It added that some of the vehicles managed to pass and drove towards the eastern Ukrainian city of Antratsit.