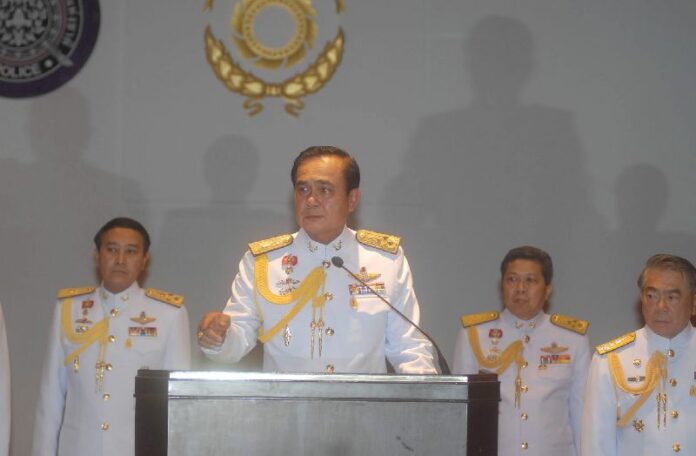 BANGKOK — The military has rebuked two reporters from prominent Thai newspapers for asking "aggressive" questions to military junta leader Gen. Prayuth Chan-ocha, an army secretary says.
"Gen. Prayuth has instructed me to tell them that today he is not only the commander-in-chief of the army, he is now the leader of the country, who exercises both legislative and administrative powers," said Lt.Gen. Pollapat Wannapak, chief secretary to the Royal Thai Army. "Therefore, in order to answer any questions for the public, he has to carefully consider things."
The chastised reporters are Supparerk Thongchaiyasit from Thai Rath newspaper, and Wassana Nanuam, a self-styled "military reporter" from the Bangkok Post.
In a press conference yesterday, Mr. Supparerk and Ms. Wassana asked Gen. Prayuth whether he planned to appoint himself as the new Prime Minister, and when he expects a new election to be held.
Gen. Prayuth refused to answer either question.
"Do you want to be Prime Minister? Do you?" Gen. Prayuth taunted Mr. Supparerk in response.
"I do! I do!" the Thai Rath reporter shouted back, provoking laughter from other journalists.
Today, army secretary Lt.Gen. Pollapot called Mr. Supparerk and Ms. Wassana's behavior unacceptable.
"Now it is not the time for [Gen. Prayuth] to answer these questions, especially about the appointment of new Prime Minister," Lt. Gen. Pollapot said. "Furthermore, asking questions in such an aggressive manner is not appropriate. Therefore, we ask for their cooperation not to do that again in the future."
The army secretary added that Gen. Prayuth has expressed concern that "aggressive" questions from the media may affect the public's confidence in his ability to lead the country.
Lt.Gen. Pollapot said that Ms. Wassana, who consistently reports favorably on military affairs, was also "asked" by the army to close the comment section on her official Facebook account. However, Ms. Wassana informed them that while it is impossible to "close" the comment section on her Facebook, she has asked others to stop debating about military issues on her page, Lt.Gen. Pollapot said.
Freedom of press in Thailand has been severely restricted since the army seized power from the elected government on 22 May. The military junta has shutdown TV and radio stations, blocked dozens of websites, and "asked" the Thai media to avoid reporting anything that undermines the military's mission.
A prominent journalist from The Nation, Pravit Rojanaphruk, was ordered to report to the NCPO two days ago and has not been released since.
For comments, or corrections to this article please contact:[email protected]
You can also find Khaosod English on Twitter and Facebook
http://twitter.com/KhaosodEnglish
http://www.facebook.com/KhaosodEnglish