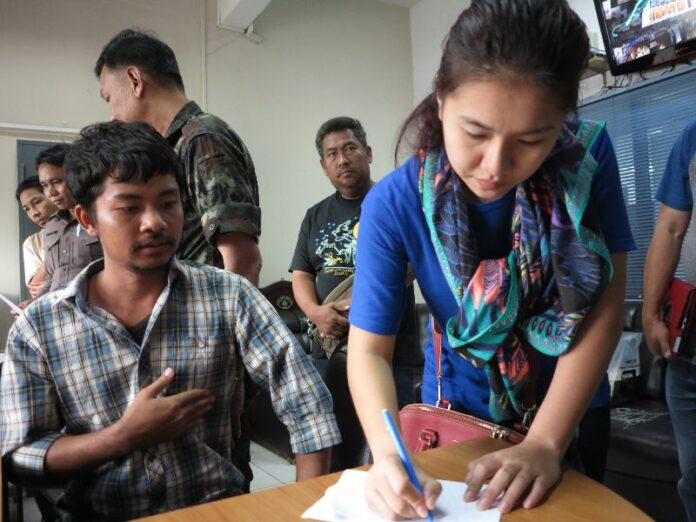 BANGKOK — A Redshirt activist who has been missing for three weeks was released from military custody today, after being detained by the army at an undisclosed location for nearly a month.
Kritsuda Khunasen, 27, was released at the Army Club in Bangkok's Thewes district at around 1 pm today. She was seen leaving the compound on a pick-up truck with her boyfriend and fellow activist, Abhirat Sripatsamet, who had also been briefly detained by the military.
Ms. Kristuda, aka Comrade Suud Soi (the end of the alley), was arrested on 28 May in Chonburi province. The military did not cite reasons for her arrest and refused to say where Ms. Kritsuda was being held for weeks, despite calls for clarification from a number of rights groups including the New York-based Human Rights Watch (HRW).
HRW, among other groups, pointed out that martial law only allows the military to detain people without charges for a maximum of seven days.
Concerns for Ms. Kritsuda grew when she was summoned, along with 33 others, by the military junta's National Council for Peace and Order (NCPO) on 18 June to report to the Army Club in Bangkok. She had not been seen since she was arrested by soldiers three weeks earlier.
Three days later, NCPO spokesperson Col. Winthai Suwaree broke the silence and told a Bangkok Post "military reporter" that Ms. Kritsuda was being detained by the military. He reportedly claimed that the military was holding her at a secret location so that she could "meditate, restore consciousness, and reconsider many things, so that we can adjust [her] understanding."
After rumours that Ms. Kritsuda might have been killed while in military custody started to spread on social media, the NCPO broadcasted a video of the Redshirt activist speaking about her condition and reuniting with her boyfriend, Mr. Abhirat. The pair had lunch together in front of the camera.
In the video, which was aired last night on army-owned TV channels, Ms. Kritsuda said she was "happy" with her living conditions while in military custody.
Ms. Kritsuda was released less than 24 hours later.
Since staging a coup on 22 May, the NCPO has summoned and detained more than 300 politicians, activists, and academics. A vast majority of those summoned have been allied to the Redshirt movement, like Ms. Kritsuda, who campaigned actively for freedom of political prisoners who are imprisoned for their alleged role in the political violence that occured during the Redshirt protests in 2010.
The military also released a group of student activists today who were detained for staging a small rally against the military regime at a shopping mall in Bangkok on Sunday.
For comments, or corrections to this article please contact: [email protected]
You can also find Khaosod English on Twitter and Facebook
http://twitter.com/KhaosodEnglish
http://www.facebook.com/KhaosodEnglish