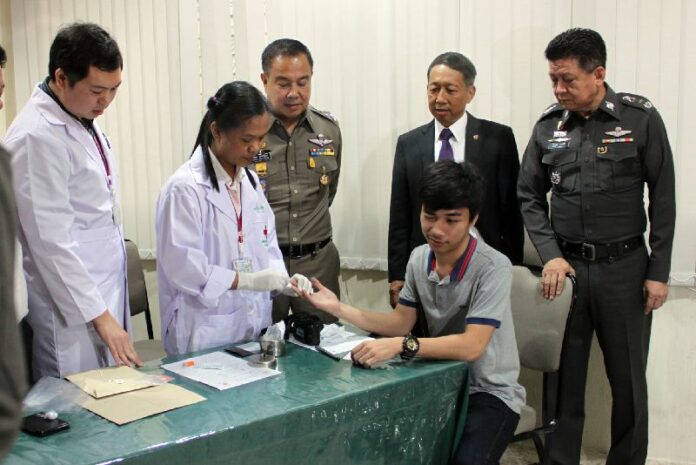 BANGKOK — The son of a village headman on Koh Tao gave a DNA sample to police today to dispel accusations that he was involved in the murder of two British tourists on the island last month.
Warot Toowichian, 22, was briefly considered a suspect in the case, but was swiftly deemed innocent after police determined that he was not on the island on 15 September, when David Miller, 24, and Hannah Witheridge, 23, were murdered.
However, skeptics have continued to raise questions about Warot, whose father Woraphan Toowichian is a local administrator on the island and owns the bar where Miller and Witheridge were last seen. Woraphan, who was also briefly considered a potential suspect in the case, has threatened to press libel charges against anyone who attempts to link him or any of his family members to the murder.
Forensic officials said they will compare Warot's sample to the DNA traces found at the crime scene and on Witheridge's body. The results are expected in 24 hours.
Shortly after Warot was cleared of a connection to the murder last month, police arrested two 21-year-old Burmese migrant workers who they insist confessed to the crime and are implicated by forensic tests.
The two suspects, named Zaw Lin and Win Zaw Htun, later recanted their confessions and said they were tortured during the police interrogation.
The murder inquiry has been followed closely by Thai and international media, with many critics accusing police of using Zaw and Win as scapegoats after their investigation appeared to reach a dead-end. Police have been under an immense amount of pressure to solve the case, with Thai authorities expressing concern that the incident could damage the Kingdom's tourism sector.
Doubts about Thailand's handling of the case also prompted the United Kingdom to send its own delegation of police to Thailand last weekend to oversee the investigation.
Thai authorities have firmly denied torturing the Burmese men or using them as scapegoats.
Yesterday, Prime Minister Prayuth Chan-ocha offered to carry out another round of DNA tests for Win and Zaw. Today, Thailand's police chief said the matter would be decided by public prosecutors, who have yet to formally take up the case.