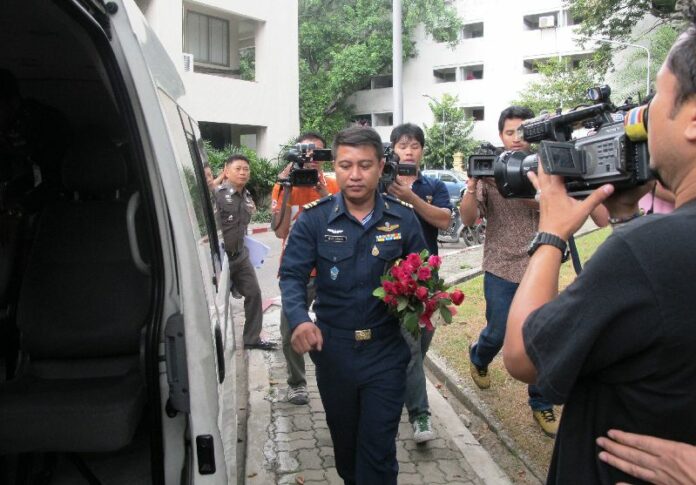 BANGKOK – The King of Thailand has rescinded the royal decorations of a Redshirt activist facing charges of insulting the royal family.
The Office of Prime Minister announced last night that Chanin Klaiklung, who served as a Squadron Leader in the Royal Thai Air Force, has been stripped of the Order of the White Elephant and the Order of the Crown of Thailand, two decorations he earned for his "extraordinary" service as a flight technician in the military.
According to the statement, the decorations were rescinded because Sqn.Ldr. Chanin "violated the disciplines of the armed forces with his serious, evil behaviour, and insulted, defamed, and displayed vengeful expression toward His Majesty the King."
The military expelled Chanin from the Air Force on 26 May 2014, four days after Gen. Prayuth Chan-ocha seized power from the elected government in a military coup. The military cited Sqn.Ldr. Chanin's role as an "instigator" and his frequent "libelous" remarks aimed at military leaders as the basis for his expulsion.
The police also charged the ex-serviceman with lese majeste in November 2010 for comments he made on Facebook, which police say defamed Thailand's monarchy. Criticising the royal family is punishable by up to 15 years in prison under Section 112 of Thailand's Criminal Code, a law known as lese majeste.
Chanin, a staunch supporter of former Prime Minister Thaksin Shinawatra and the political groups allied to him, is considered to be one of the few outspoken Redshirt activists in the armed forces.
Known among supporters as Phu Pan Suu Tua Jing (The Real Fighter Colonel), Chanin regularly expressed support for the shadowy militants who launched gun and grenade attacks on anti-government protesters during their campaign against the administration led by Thaksin's sister, Yingluck Shinawatra, in 2013-2014.
The military junta summoned Chanin and other Redshirt activists for a brief detention following the 22 May coup, but the former serviceman refused to show up. Chanin has claimed on Facebook that he is now living in exile in Dubai, United Arab Emirates, where Thaksin also lives in self-imposed exile to avoid corruption convictions.
Chanin said in a Facebook post today that he will not be deterred by the loss of his royal decorations.
"I am still proud of my actions and attempt to defend freedom and democracy," Chanin wrote. "You may be a general, I may be a civilian, but you and I are no different in the land that has true freedom, and, ultimately, in the land of heaven or hell."