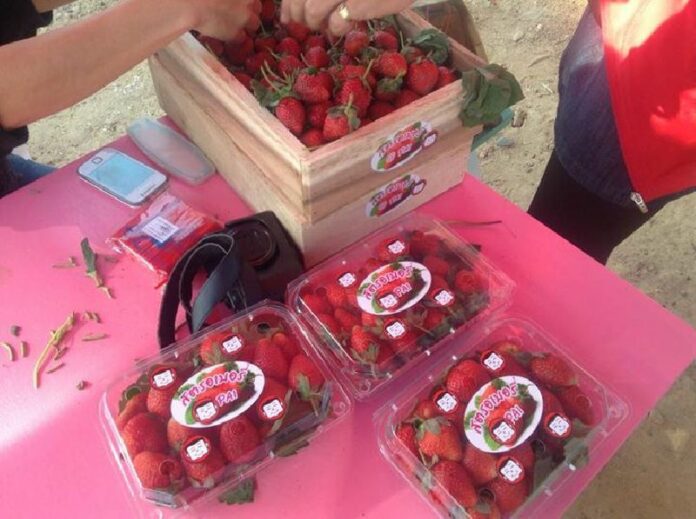 MAE HONG SON — Soldiers have dismantled a food stall in northern Thailand that sold strawberry products with a logo resembling the face of former Prime Minister Thaksin Shinawatra.
Five soldiers took down the roadside stall near the popular tourist town Pai in Mae Hong Son province yesterday. The stall's owner, Pichit Tamool, said soldiers refused to identify their ranks, units, or the reasons behind their action.
The soldiers confiscated all of the products with the Thaksin logo, which included twenty jars of strawberry jam, eight bottles of strawberry wine, and six bottles of orange juice.

The 'Thaksin cartoon' on the food stall before it was dismantled, Pai, Mae Hong Son. [Photo: Prachatai English]
"They didn't give me any documents. They didn't give any reason for dismantling my tents," said Pichit, who is also a local coordinator of the United Front of Democracy Against Dictatorship (UDD), the umbrella organisation of Thaksin's supporters.
Pichit said he is confused by the soldiers' operation because his stall and products are properly registered, and the Thaksin logo is merely a cartoon that bears no political statement.
"I don't get how I could be seen as breaking any law, or challenging martial law," Pitchit said. "I would like to send my complaint to General Prayuth Chan-ocha. Prime Minister, please investigate the incident and return my tents and products to me."
Pichit added that he would file formal theft charges against the soldiers at Pai Police Station for "robbing" him.
Former PM Thaksin is a deeply polarising figure in Thailand who supporters view as a democratically-elected champion of the poor, and opponents consider a corrupt tyrant who abused his power and poses a threat to the monarchy.
Although Thaksin was ousted in a military coup in 2006 and has been living in exile since 2008, the former PM still wields considerable influence over Thai politics as the de facto leader of the Redshirt movement and the political parties that have won every national election since his ousting.
The government that was toppled by Gen. Prayuth in a military coup on 22 May 2014 was led by Thaksin's sister, Yingluck Shinawatra. Thaksin's opponents, known as the Yellowshirts, routinely accused Yingluck of acting as a puppet or "nominee" of her older brother.
Since staging the military takeover, the Thai junta has sought to dismantle Thaksin's extensive network of supporters. In the wake of the coup, the army detained hundreds of politicians, activists, and academics deemed sympathetic to Thaksin at military camps for several days of "attitude adjustment."
The junta has also reshuffled bureacrats and police officers in an effort to minimize the influence of Thaksin's allies.
In November, Gen. Prayuth went as far as asking reporters to stop publishing photos of Thaksin and Yingluck, who were traveling together in China at the time.
The New York Times also reported in September that the Ministry of Education erased all mention of Thaksin from new history textbooks commissioned by the junta.