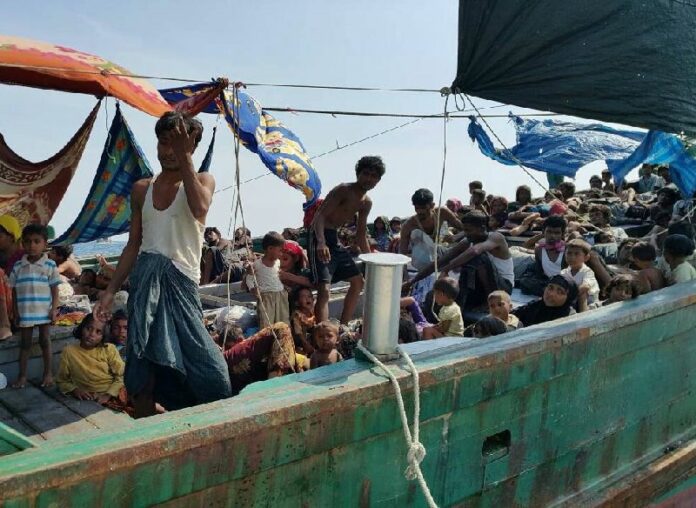 BANGKOK — Thailand's military leader has asked journalists to let the Thai navy document any encounters with the boat people from Myanmar and Bangladesh who are languishing off shore as no country in the region races to rescue them.
"Naval officers will inspect the boats. Reporters don't have to board the boats," Gen. Prayuth Chan-ocha said today. "Navy officers will ask where they want to go. We will document all kinds of evidence: photos, videos."

Thai junta chairman Gen. Prayuth Chan-ocha speaking to reporters in Bangkok, 17 May 2015.
Over the past week, Thailand, Indonesia, and Malaysia have towed overcrowded boats of migrants back and forth across their waters, unwilling to shoulder the responsibility of dealing with the thousands of asylum-seekers from Myanmar and economic migrants from Bangladesh.
Gen. Prayuth's comment came several days after a New York Times reporter helped the Thai navy locate a boat of approximately 350 Rohingya migrants near a Thai island in the Andaman Sea. After the navy then barred reporters from accompanying their mission to provide food and water to the ship, journalists from the New York Times and BBC rented their own speedboat to make contact with the passengers.
The Rohingya refugees, which included women and children, told reporters they had been abandoned by the boat's crew without enough food or water, and that at least ten people had died onboard.
The Thai Navy then provided provisions and repaired the boat's engine before towing it back out to sea.
According to the Thai government, the migrants requested the push-back because they said they were headed for Malaysia, but a Channel 3 journalist who spoke to the boat's passengers said that not all of them wished to be sent back.
Thai authorities say their policy is to provide humanitarian assistance to boats off shore, and inform migrants that they can either continue to another destination, or disembark in Thailand and face prosecution for illegal entry.
"We have our laws. Once they enter the country illegally, they will be prosecuted," Gen. Prayuth said today. "If they are in the water, we will take care of them under humanitarian principles, but it will be up to them to decide where they want to go. If they are outside our waters, we cannot do anything to them. But once they enter Thailand, it is considered illegal. Illegal entry to the Kingdom. Every country has to respect that. Every country has its own laws."
The general also repeated that Thailand will not build permanent refugee camps for the Rohingya, a stateless Muslim minority that has faced violent persecution in Buddhist-majority Myanmar.
"We don't have enough space," he said. "If they keep coming, what can we do? I have instructed officials to look for space to control these people. But I insist that it's [temporary] detention center, not a shelter center or a refugee center."
Thailand is scheduled to host an international summit to discuss the migrant crisis on 29 May, but the United Nations and other human rights agencies say twelve days is too long to wait, as an estimated 8,000 migrants risk starvation and other dangers off shore.
In a statement released today, Amnesty International called upon governments in the region to "immediately step up and co-ordinate efforts for search and rescue in the region and to protect the rights of people stranded at sea."
When a reporter asked Gen. Prayuth whether Myanmar will send representatives to the summit, Gen. Prayuth replied, "As far as the Ministry of Foreign Affairs told me, all countries say they will attend. But if the news is too loud, there will be limitations. Because many countries have their own internal problems. If we pressure them too much, or if we put blame on them, they won't want to attend the meeting because they feel they are being targeted."
Myanmar, whose state-sanctioned discrimination against the Rohingya is considered a root cause of the exodus, has expressed ambivalence over attending the regional summit.
"We do not accept it if they (Thailand) are inviting us just to ease the pressure they are facing," a Burmese official told AFP on Friday.
Gen. Prayuth sought to dispel this notion today, promising that ASEAN countries would not "pick a fight with eachother" over the issue.
"I and leaders of other countries have understanding about everything," he said. "I am well aware that each country has its own limitations and restrictions. We always give moral support to each other."
Thailand assures UN of its 'humanitarian practice'
Yesterday, Secretary-General of the United Nations Ban Ki Moon spoke on the phone to Gen. Prayuth and other leaders in the region about the mounting humanitarian crisis.
Ban expressed concern over the plight of the refugees and stressed the need to "protect lives" and go forward with a "timely disembarkation," according to a UN statement.
Gen. Prayuth assured Ban that Thai authorities have been strictly adhering to "humanitarian principles," said Thai government spokesperson Maj.Gen. Weerachon Sukhonthapatipak.
"The practices of Thailand do not only rest on the humanitarian principles, but also on the principles of international laws, maritime laws, and other related laws," Maj.Gen. Weerachon told reporters yesterday. "The Prime Minister has stressed [to Mr. Ban] that every country has its own laws concerning practices toward the ongoing situation. Therefore, any procedures must consider that fact."
He continued, "In the latest case Thai officials were asked to repair the [refugees'] boats, and to give assistance in terms of food, water, medicine, and fuel for their journey toward the third country that they voluntarily requested."
The Prime Minister also told the UN Secretary-General that the upcoming summit on 29 May will "show the solidarity of ASEAN in its mission to take responsibility for humankind," Maj.Gen. Weerachon said.