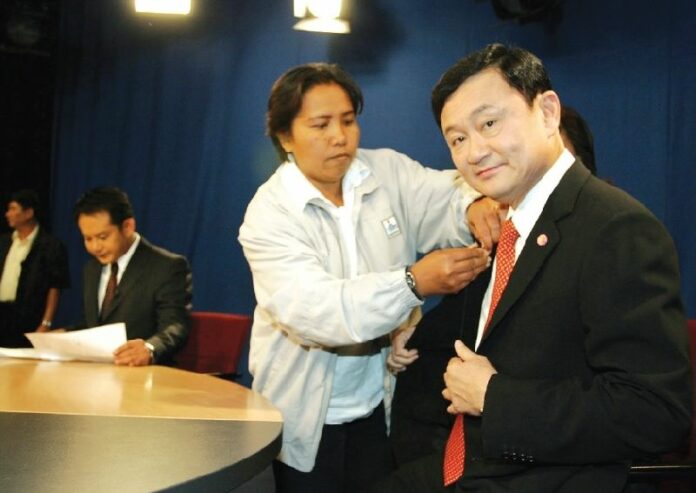 BANGKOK — Thailand's military government has revoked two passports held by former Prime Minister Thaksin Shinawatra due to "damaging" remarks he made in an interview with a South Korean media agency last week.
According to a statement published by the Ministry of Foreign Affairs today, the interview contained "some elements that may damage the national security, reputation, and dignity of Thailand."
Although Thaksin was ousted in a military coup and has been living in exile since 2008 to avoid a corruption conviction, he has continued to command his powerful political dynasty from abroad. He is the de facto leader of the Redshirt movement and Pheu Thai Party, which led the government toppled by the current junta in May 2014.
Thaksin has seldom commented on political affairs in public over the past year, but the former PM made waves last week after he told a South Korean news channel that the 2014 coup makers were helped by Thailand's traditional elites.
Due to Thailand's strict lese majeste law, which criminalizes insulting the monarchy, Khaosod English is unable to elaborate on the comments he made in the interview.
The MFA statement noted that Thaksin is under investigation for committing lese majeste and violating the Computer Crime Act, which outlaws disseminating information that threatens national security.
"The Ministry of Foreign Affairs has deliberated and determined that such actions constitute grounds for revoking his passports in accordance with the Ministry of Foreign Affairs' regulations," the statement reads, adding that the invalidation of Thaksin's two passports came to an effect yesterday.
A government spokesperson told reporters today that the Ministry of Foreign Affairs acted on a request filed by the Royal Thai Police.
"This is not about the government being intent on targeting Thaksin," Maj.Gen. Weerachon Sukhonthapatipak said. "It is because the police and relevant agencies filed the case to us, and the Ministry of Foreign Affairs deliberated on his existing wrongdoing. If the government did not act, it would be guilty of dereliction of duty. Therefore, we had to follow the laws."
When a reporter asked whether the passport revocation was a response to Thaksin's interview in South Korea, Maj.Gen. Weerachon replied: "It was done because Thaksin has committed crimes under Thai laws, which is due cause for revoking his passports."
Thaksin fled Thailand shortly before a court sentenced him to two years in jail for corruption in 2008. He has been living in exile since, with residences in London, Dubai, and Hong Kong.
In 2009, the government led by the virulently anti-Thaksin Democrat Party revoked the former PM's passports, which were later restored in December 2011 by the government led by Thakin's sister, Yingluck Shinawatra.
The former Minister of Foreign Affairs who restored Thaksin's passports in 2011 told Khaosod today that he would gladly do it again.
"When I was Minister, I ordered his passports to be handed back, because I believe Thaksin did not cause any damage to the country," Surapong Tovichakchaikul said. "This incident is also the right of the current Minister of Foreign Affairs to do. But if I am ever return to the government, I will hand the passports back to Thaksin again."
He added, "Expressing opinions and thoughts is not damaging. It's up to the people to decide what to believe. Expressing an opinion is a right that cannot be restricted. Since Thaksin has been a victim all along, he should have the rights to explain facts."
Thaksin is also a citizen and passport-holder of Montenegro, according to his aides.
Since seizing power last May, Thailand's military government has revoked the passports of at least six people facing lese majeste charges.