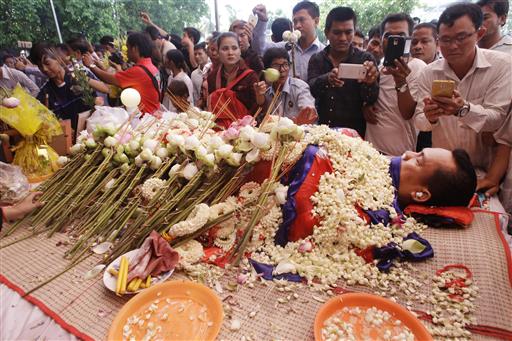 PHNOM PENH, Cambodia  — Cambodia's prime minister said Monday that authorities will conduct a vigorous investigation to uncover any conspiracy behind the shooting death of a government critic, and urged the opposition not to use the assassination to incite people.
Kem Ley, 45, was killed at a gas station mini-mart complex in Phnom Penh on Sunday and his attacker was arrested shortly afterward. Police said the suspect claimed to have shot Kem Ley, a high-profile political analyst, because he failed to pay him back for a loan.
But Cambodia's opposition, which has long been suppressed by Prime Minister Hun Sen, have suggested that Kem Ley, 45, was a victim of a conspiracy for his outspoken views about government corruption. His friends and supporters have decided to keep his body at a Buddhist temple for 10 days before holding the funeral to allow people to pay their respects.
Speaking at the inauguration of a new military police headquarters, Hun Sen condemned the killing and offered his condolences to Kem Ley's family.
"I have ordered the competent authority to conduct a vigorous investigation into the attacker and the conspirators to face justice," he said.
The killing comes at a time of political tension that began last year with legal and other pressures on the opposition Cambodia National Rescue Party by Hun Sen's government.
Kem Ley was often critical of the government, and was widely known because he was frequently heard on the popular Cambodian-language services of Radio Free Asia and Voice of America, U.S. government-funded services that are among the few independent news sources in Cambodia. He was also frequently quoted in the country's handful of independent newspapers.
One of his most recent commentaries was about a report issued last week by the London-based research and advocacy group Global Witness that alleged that Hun Sen and his family have enriched themselves and kept power through corruption.
The Interior Ministry identified the attacker as Chuob Samlap, 38, one of the many migrant Cambodian farm workers in neighboring Thailand.
Hun Sen said he hoped the killing is not used to incite the public.
"Hopefully, our people will give authorities time to perform their duties by not turning this tragedy into something politically motivated," he said.
Violence has long played a prominent part in Cambodian politics, though it often is carried out in the countryside, where it gets little attention. Activists and members of the political opposition are frequent targets, and attackers are rarely brought to justice.
Kem Ley is the most prominent Cambodian government critic to be killed since trade union leader Chea Vichea in 2004.
Kem Ley's body will be moved from the Buddhist temple in Phnom Penh on July 19 and taken to his hometown Takeo in the south for cremation, said Sum Po, one of the funeral organizers.
For now, his body was placed on a bed covered by a Cambodian flag up to his neck. Buddhist monks sat nearby to pray for his soul.
Story: Sopheng Cheang