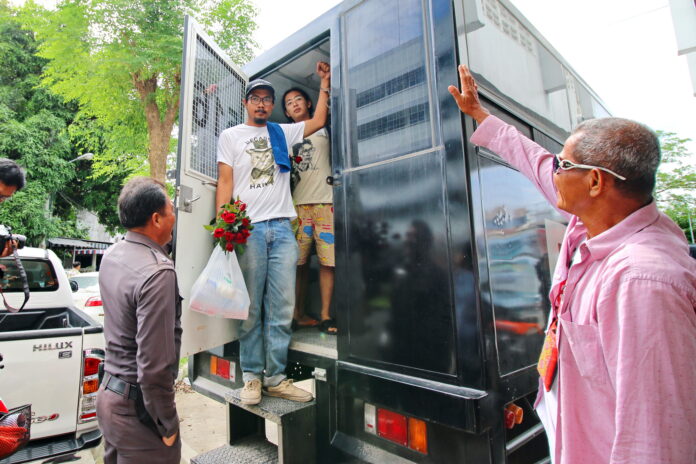 Update: The Ratchaburi provincial court Monday afternoon freed all five suspects, including Taweesak, on bonds of 140,000 baht to await trial.
BANGKOK — The kingdom's two leading press clubs issued a joint statement Monday afternoon demanding the immediate release of a reporter detained by authorities.
The Thai Journalists Association and Thai Broadcast Journalists Association said Prachatai reporter Taweesak Kerdpoka was performing his duties when he was detained Sunday in Ratchaburi province along with four pro-democracy activists.
"Taweesak has always identified himself as a journalist and was in the area to carry out his duties, but police deemed him to be a collaborator because he was in the car with the New Democracy Movement group," said the statement, signed by Pramase Lekpetch of the Thai Journalists Association and Supan Rakchuea of the broadcast guild.
Taweesak and the activists were in a Ratchaburi provincial court on Monday afternoon for a hearing on whether they would be held.
Taweesak, 25, was arrested along with the activists after local police said they found campaign materials critical of the junta-supported charter draft in the vehicle belonging to Pakorn Areekul, a member of the group. Taweesak has said he was getting a ride back to Bangkok with them.
They were all accused of violating a recent law passed to criminalize most forms of criticism and campaigning in the run-up to the Aug. 7 referendum on the proposed constitution written by junta appointees.
A human rights lawyer said he had been notified all five did not intend to seek bail. Prachatai Director Chiranuch Premchaiporn said Monday afternoon that they had advised their reporter to post a bond and seek bail if the court did not release him.
The associations' statement said initial reviews of what happened found no evidence he had broken any law.
"We demand the Prachatai reporter be quickly released without charge because it cannot be argued the journalist violated the law by hitching a ride with news sources, because reporters must be timely in their work and travel, there may be a need to travel in a source's vehicle, which is common."
The statement urged the junta, formally known as the National Council for Peace and Order, to recognize freedoms enshrined in the constitution and the need to maintain a climate of liberty in reporting news about the charter referendum process, so people can make their own decisions.
Related stories:
Activists, Reporter Won't Seek Release on Bail: Lawyer
Reporter Arrested While Reporting on Referendum in Ratchaburi