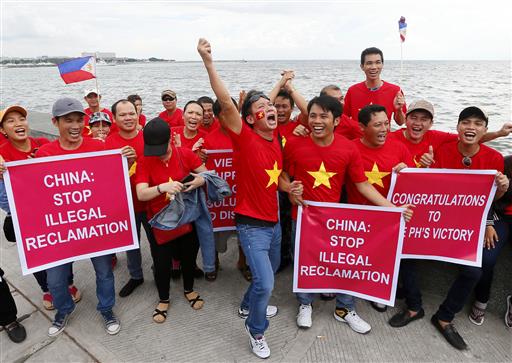 MANILA, Philippines  — The Philippine government welcomed a ruling that rejects China's 'nine-dash line' claiming much of the South China Sea.
Philippine Foreign Secretary Perfecto Yasay said in Manila the "milestone decision" was an important contribution to efforts in addressing disputes in the sea.
He said: "The Philippines reiterates its abiding commitment to efforts of pursuing the peaceful resolution and management of disputes with the view of promoting and enhancing peace and stability in the region."
An international tribunal has found that there is no legal basis for China's "nine-dash line" claiming rights to much of the South China Sea.
The tribunal issued its ruling Tuesday in The Hague in response to an arbitration case brought by the Philippines against China.
The panel said that any historic rights to resources that China may have had were wiped out if they are incompatible with exclusive economic zones established under a U.N. treaty.
Rival demonstrators tried to drown out one another in a shouting match outside the seat of the Permanent Court of Arbitration in The Hague minutes before it is issued an international arbitration panel's hotly anticipated ruling in a dispute over the South China Sea.
Three demonstrators holding up banners shouted "China out of Philippine waters!" while rival protesters yelled in Chinese.
Manila 
Carrying a fishing boat with a Philippine flag, more than 100 left-wing activists marched to the Chinese consulate in metropolitan Manila yelling, "Philippine territory is ours, China get out." They called their campaign to push China out of the South China Sea, "CHexit" or "China exit now."
Protest leader Renato Reyes of the Bayan group called on China to respect the tribunal's decision, which he says would likely favor the Philippines. Chinese coast guard ships, he said, have blocked Filipino fishermen from disputed areas like the Scarborough Shoal, affecting their livelihood.
Fisherman Fernando Rayman, who joined the protest, hoped the ruling will favor the Philippines and stop China's aggressive actions "so that our family can have a better life, we can send our children to school, because now it's very hard."
Bangkok
Thailand has urged all parties with stakes in the South China Sea to maintain peace and stability.
In a statement issued ahead of an international tribunal ruling on a dispute between China and the Philippines in the South China Sea, Thailand's foreign ministry said it is important to restore trust and confidence among countries in the region.
It says the situation in the South China Sea should be resolved "on the basis of mutual trust and confidence as well as equitable benefit" that would reflect the long-standing relations between China and the Association of Southeast Asian Nations.
Beijing
China has summoned its demobilized sailors and officers for training drills, state media have confirmed, in exercises that apparently started just days ahead of a tribunal ruling on China's expansive claims to the South China Sea.
The People's Liberation Army Daily newspaper said on social media late Monday that Chinese navy reserves have been called up to perform "functional tasks." The post followed online rumors that reservists in central Chinese provinces were called up for an unspecified mission from July 10 to July 22.
The PLA Daily's post did not explicitly link the call-up to the South China Sea ruling expected Tuesday but said that decommissioned naval officers and reserves hold "normal trainings every year, after which they are able to proficiently operate naval vessels and equipment."
It added: "'If there is war, we must answer the call' is the sentiment in the hearts of many demobilized veterans."
Hanoi
Vietnam has accused Chinese vessels of sinking a Vietnamese fishing boat in disputed waters as an international tribunal was to rule Tuesday on the case brought by the Philippines that challenges Beijing's claim of most of the South China Sea.
Nguyen Thanh Hung, a local fisheries executive in central province of Quang Ngai said two Chinese vessels chased and sank the Vietnamese fishing boat as it was fishing near the Paracel Islands on Saturday. The fishermen were rescued by a fellow fishing trawler some seven hours later.