PHUKET — A man was arrested Sunday on Phuket after he was reported for allegedly insulting the Royal Family online, another in a crackdown on those deemed to have violated the law.
Police rushed to arrest Manorusdeen Samutbal at his home in the island's Thalang district after identifying him as Facebook user "PayakRai Haengnakorn KorEnd" who they had received complaints about for allegedly defaming the monarchy in recent days.
"The suspect posted a malicious message on Facebook against His Majesty the Late King," Wacharin Jiratthitikarlwiwat, deputy commander of Tha Chatchai station said on the phone. "He denied the allegations, so we're continuing to gather evidence."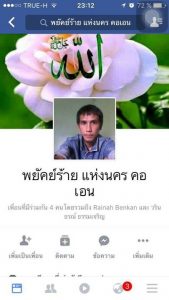 Police said they found amphetamines in Manorusdeen's home, so they arrested him on a count of possessing drugs. A charge of insulting the monarchy, a crime known as lese majeste, will be further investigated, Lt. Col. Wacharin said.
Friday night, an angry mob gathered in front of a soy milk store in Phuket city after Sutee Arammetapongsa, the shop owner's son, allegedly posted online content insulting the Royal Family. Sutee recently posted Sunday evening that his intention was simply to reflect Buddhism and swore he didn't intend anything defamatory.
"If I have wicked intentions against anyone, may I die," he wrote. The post later disappeared, together with his entire Facebook profile.
Related stories:

Phuket Mob Demands Arrest of Man For Alleged Royal Defamation

Phang Nga Mob Enraged by Alleged Royal Defamation Post

Mob Demands Woman Accused of Royal Defamation Kneel Before Portrait