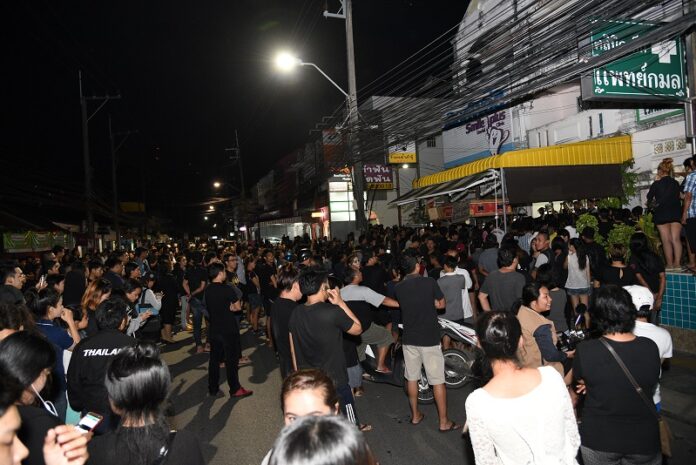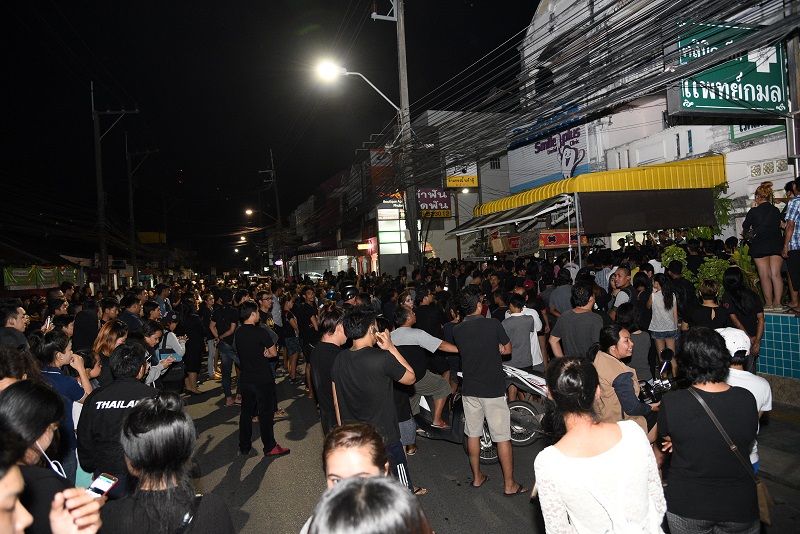 PHUKET — Roads were closed for hours Friday night after an angry mob gathered in front of a soy milk store in Phuket city demanding the shop owner's son be arrested for allegedly insulting the royal family.
At about 11pm on Friday, more than 100 people gathered outside the shop of a man who they believe posted comments on Facebook that breached the country's lese majeste law. The incident was livestreamed online in a video which has been shared nearly 11,000 times since last night.
Netizens were angry after they saw messages Sutee Arammetapongsa allegedly wrote on Facebook in August 2015 they interpreted as unfavorable toward the royal family.
The widely shared video of the incident showed footage of a large crowd shouting at security forces outside the locked-up shop. They cheered as more vehicles of protesters arrived to demand action.
It took over 30 policemen four hours to negotiate with the mob and restore peace. Protesters reportedly went back home at about 3am on Saturday without any episodes of violence taking place, Maj. Gen. Theerapol Thipcharoen, commander of Phuket police said.
"I pointed out that the country is in grief. We're living through a transition of the King, and we want peace," Theerapol said by phone Saturday morning. "I told them that we don't want the situation to grow more intense. They listened and went back home."
A man in the shop, whose identity was not disclosed by authorities, was taken into custody and charged with royal defamation under Section 112 of the penal code and violating the Computer Crime Act.
He was later released, Theerapol said, due to a lack of evidence to hold him.
The leader of the mob, Suratin Lian-udom, vowed to collect evidence to justify re-arresting the man.