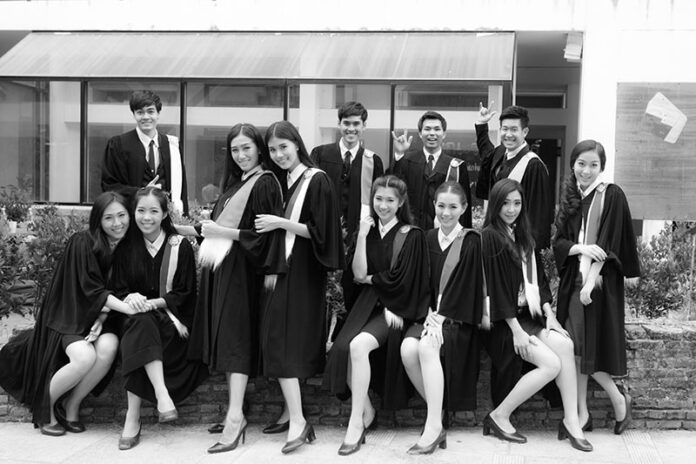 BANGKOK — Thammasat University has banned celebratory signs reading "congratulations" or any other festive messages for their Saturday and Sunday graduation practice and ceremony on Nov. 12 and 13.
Three weeks into a month-long period of mourning for His Majesty the Late King, Thammasat Monday enacted the strictest of measures taken by universities seeking to balance a normally exuberant time with social expectations by banning flowers and other overt expressions of joy at graduation ceremonies.
"Because it is the mourning period for the His Majesty's body in the Tha Prachan area, Thammasat does not deem it at all appropriate to express congratulations, merriness and color at the upcoming graduation," said Chalie Charoenlarpnopparut, vice director of student affairs and learning.
Instead, locations for graduates to take photos will be set up around the university, with white flowers and signs expressing condolences, mourning, respect and gratitude for the King.
Graduates and relatives are encouraged to take photos at these spots rather than bringing their own flowers or congratulatory signs.
"We want this graduation to have as few flowers as possible," Chalie said.
Many disappointed Thammasat graduates have shared the post without accompanying comments to inform their family and friends of the regulations.
Reacting to the news from Thammasat on Facebook, user Suvarat Jingkutsuburo Satayanon wrote that graduation, a once-in-a-lifetime event usually celebrated lavishly, should not be toned down to avoid offending nearby mourners at the palace, which is located adjacent to the university.
Others said it was unnecessarily strict compared to other graduations held recently.
"Even Chula didn't have this many rules…can we just have a graduation that looks like one?" user Chayapreuk Kongchan wrote.
Last month's graduation ceremonies at Chulalongkorn discouraged flowers and balloons but did not go so far as to ban celebratory signs.
User Nui Wannarat said the university was playing politics.
"This is the way to deal with sadness? … Damn! I'm sad, but please have some discernment. It's two different events," Nui wrote. "Do I have to give my condolences to graduates? The university is located close to Sanam Luang, so [they] made these overboard rules because they're afraid of drama."
Five prohibitions came out of the Monday meeting between Thammasat administrators, Chalie said.
"Thammasat graduates should continue His Majesty's legacy by having each faculty and organization choose a quote or teaching by the King that goes with that faculty's studies" for photo spots around the university, said the announcement first posted yesterday noon on the official Thammasat University Academic Affairs Division Facebook.
Signs set up by individual faculties may use pictures of the King, but should be only be in grayscale without color. Student cheers are banned.
Family and friends are welcome to bring gifts for graduates, just no flowers. The university said it would seek the cooperation of nearby vendors to not sell flowers. Black ribbons can be worn on graduation gowns.
Thammasat's commencement ceremonies on Nov. 12 and 13 will presided over by His Royal Highness Crown Prince Vajiralongkorn.