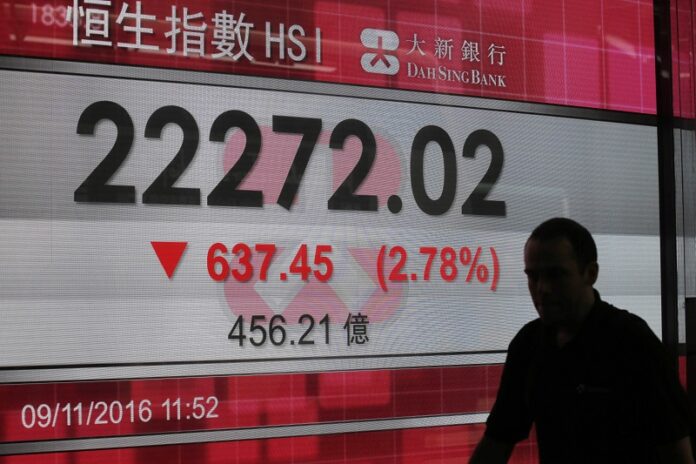 HONG KONG — Financial markets went on a wild ride Wednesday, as Wall Street index futures and Asian stock benchmarks tumbled on the rising possibility of a Trump presidency.
Shares had been higher early in Asia's Wednesday trading session but then turned sharply as investors unloaded shares when Donald Trump first gained the lead in the electoral vote count.
A Trump presidency is seen likely to bring added uncertainty on various issues, including trade policies.
Pricing in a possible Trump victory, Dow futures were down 3.8 percent or 687 points at 17,593.00 and S&P futures had dropped 4.6 percent to 2,037.80.
Oil and the dollar tumbled, the Mexican peso sank and gold surged as investors sought a safe haven.
As of 11:30 EST (0430 GMT), Trump had taken 216 electoral votes to Hillary Clinton's 197.
In Asian trading, Japan's Nikkei 225 index plunged 4.2 percent to 16,458.75 and Hong Kong's Hang Seng slumped 2.8 percent to 22,262.74. South Korea's Kospi shed 2.7 percent to 1,949.07, the Shanghai Composite index fell 1.3 percent to 3,106.23 and Australia's S&P ASX/200 in sank 1.7 percent to 5,167.00.
Benchmarks in Taiwan, Singapore, the Philippines and Indonesia also lost ground.
"A Trump victory would be certain to surprise markets and generate a global uncertainty shock," Societe Generale economists Klaus Baader and Michala Marcussen said in a research report.
Trump was locked in tight races across a handful of key battleground states with polls beginning to close across the nation. In early results, Trump the Republican and Clinton the Democrat scored in their expected strongholds. By about 9:30 p.m. Eastern Standard Time (0230 GMT) the count showed Donald Trump with 137 electoral votes to Clinton's 104.
"Rightly or wrongly, markets are going to be concerned about a Trump victory, particularly given the potential consequences for world trade and its impact on many large companies in the U.S. stock market," said Ric Spooner, chief analyst at CMC Markets in Sydney. "Like Brexit, the rally over the last two days increases the downside potential if Donald Trump does win the election," he added, referring to Britain's unexpected vote to leave the European Union that shook world markets.
The price of gold, seen as a safe place for investors' money in times of uncertainty, soared 3.1 percent to USD $1,313.50 an ounce.
The election uncertainty also jolted currency markets, sending investors fleeing from the dollar. The greenback plunged 3.0 percent to 101.79 yen from 105.46 earlier in the day. The euro rose to USD $1.1228 from USD $1.1020.
The exception was the Mexican peso, which swooned 10.7 percent to 20.31 pesos to the dollar.
Trump has threatened to renegotiate the North American Free Trade Agreement and vows to build a wall along the United States' southern border and force Mexico to pay for it.
Financial analyst Gabriela Siller of Banco BASE issued a forecast earlier Tuesday that a victory by Donald Trump could cause the rate to fall to 24 to the dollar next year and lead to a 3 percent economic contraction in Mexico.
Energy markets were also roiled. Benchmark U.S. crude futures lost USD $1.35, or 3 percent, to USD $43.63 a barrel in electronic trading on the New York Mercantile Exchange. The contract rose 9 cents to close at USD $44.98 a barrel on Thursday. Brent crude, used to price international oils, slid USD $1.11, or 2.3 percent, to USD $44.93 a barrel in London.
Story: Kelvin Chan