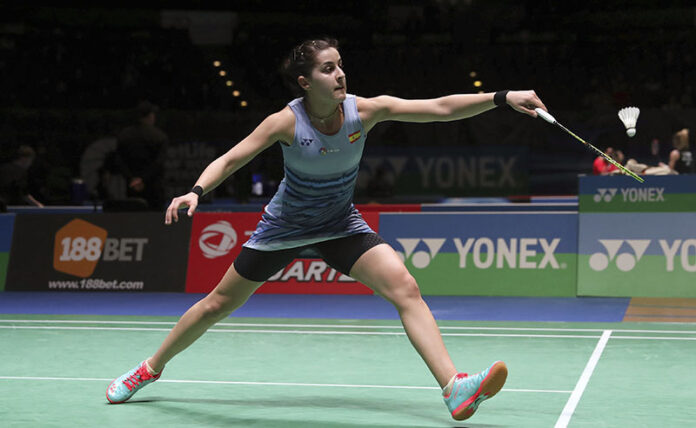 BIRMINGHAM, England — Ratchanok Intanon won the last 10 points to overcome Olympic and world champion Carolina Marin 22-20, 13-21, 21-18 in a remarkable All England Open badminton quarterfinal on Friday.
The matchup of world champions and recent No. 1s lived up to its billing. Ratchanok held off Marin in the first game, and Marin tore through the second. Marin beat the Thai in their last encounter in the same tournament and at the same stage a year ago, and looked to set to repeat as her fitness showed in leading 18-11 in the deciding game.
But Ratchanok hit some winners, Marin tightened, and the last five points were the Spaniard's own errors.
"I don't know what happened," Marin said. "In the end I am angry with myself. I was in control."
Her exit meant there will be a new All England women's champion on Sunday.
"The last game was about mentality and pressure," Ratchanok said. "Anticipation was also key."
On the men's side, a dream fifth final between Lee Chong Wei and Lin Dan was on the horizon after they advanced.
Lin was given a right scare by Viktor Axelsen, the Dane who beat him in the Olympic bronze-medal match. Axelsen smashed Lin in the first game 21-8 but became nervous and forgot his game plan. Lin, slow to warm up, finished him off 21-14, 21-15.
Lin, aged 33, was proud he could still beat a guy 10 years younger. He has 12 years on his semifinal opponent, Chinese teammate Shi Yuqi. Shi finished long before Lin and hoped to play Axelsen.
Chong Wei dispatched another Chinese up-and-comer, Tian Houwei, 21-12, 21-15. Up next, Chou Tien Chen of Taiwan, whom top-ranked Chong Wei has a 5-0 record against.
Blocking Ratchanok's path to a second All England final, and first in four years, is first-time semifinalist Akane Yamaguchi of Japan, who took out Sun Yu of China 21-23, 21-14, 22-20 in 1 1/2 hours. Sun had a match point.
Yamaguchi has beaten Ratchanok six times, but the Thai has beaten her at All England in the last two years.
Top-ranked Tai Tzu Ying of Taiwan faces Sung Ji Hyun of South Korea in the other semifinal. They prevented an all-India semi between Pusarla Sindhu and Saina Nehwal.
Tai has never reached the final, losing in the semis in 2012, '15, and '16.
Tai became No. 1 only in November after winning in Hong Kong, and cemented it the next month by winning the Superseries Finals, her fourth title of 2016. She beat Sung in that final.