BANGKOK — It was leather and testosterone as Bangkok's bikers donned their jackets and boots to converge on the opening of a new Harley-Davidson showroom and service center Saturday.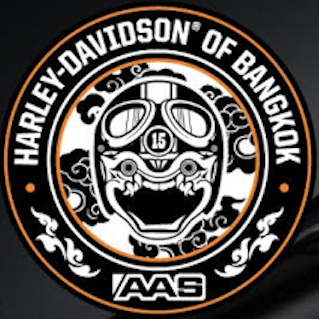 The opening of the 2,400-square meter AAS Harley-Davidson of Bangkok showroom on Vibhavadi-Rangsit Road in the Lak Si district had the usual pretty people found at such things but also drew a diverse mix of biker club members, some of whom traveled from Pattaya.
Interestingly, the new shop's logo is Hanuman in a helmet because, like the monkey general and son of the wind god from the Ramakien, Harley bikers are loyal to the brand and also in in their element riding freely on the wind. Ride out of the showroom on a Street 750cc bike for 469,000, plunk down 1.3 million baht for twice the engine and solid-cast wheels of a Fat Boy or disappear over the horizon with the 3 million baht of touring machine that is the CVO Ultra Limited.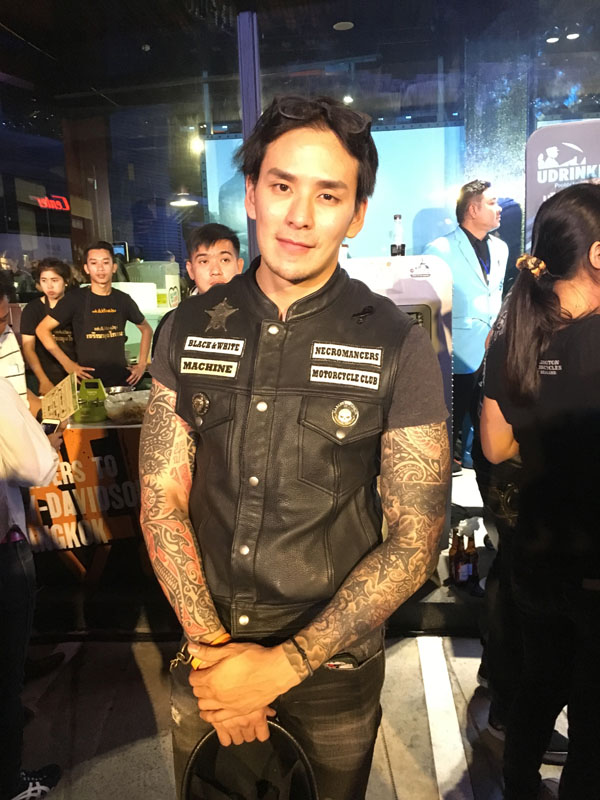 With names like the Necromancers, X-Bones and Dragons, motorcycle club members from Thailand and around the world were on hand to drink in the sight of so much chrome.
"I've been into Harley for 35 years, ever since I studied abroad in New Mexico," Pornsak Kanchanaporn. "I want there to be more and more Harleys in Thailand. Their motorcycles really have a unique sort of elegance."
Christopher Cribbs, 47 of Florida, was there with his wife, Sarashimee Cribbs, 50.
"I grew up on heavy bikes. Harley's a trusted, quality brand that I believe in, and I'll never ever ride anything else," said the Dragons Motorcycle Club member.
Thailand has a sizable number of notable biking communities, such as Commander City and Immortals.
"Those are the major ones. Our club, Dragons MC, welcomes both men and women," he said.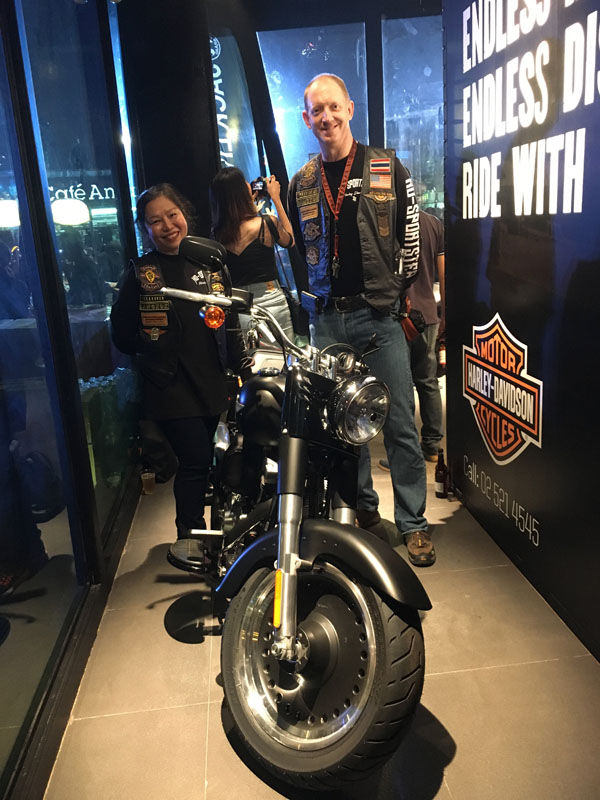 "For me, a Harley is a vehicle that's the stuff of legend," said Pharunyoo Rojanawuttitham, 32, of the Necromancers.
The new showroom is the second authorized Harley-Davidson dealership to open in Bangkok, and is open everyday from 10am to 7pm. It's owned by AAS Auto Service Co. Ltd, a Porsche importer. AAS also has a Harley-Davidson showroom in Pattaya and sells apparel at the Siam Paragon shopping mall.
Another Harley showroom owned by Power Station Motorsport Co. Ltd. can be found on Rama IX Road.