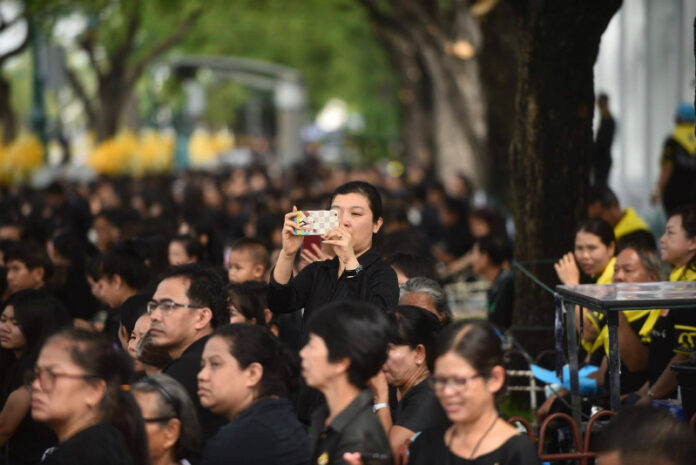 BANGKOK — Three media outlets had their credentials to cover the royal cremation ceremony temporarily revoked after they livestreamed a Saturday parade rehearsal.
For violating one of many strict limits imposed on how the royal funeral is covered, Nation TV, TNews and Thai TV 6 immediately lost their access to the second day of full-dress rehearsals today. The chief of the government's public relations department, Lt. Gen. Sansern Kaewkamnerd, said the news agencies violated prohibitions on both real-time live-streaming and broadcasting footage before the rehearsals had ended.
Their passes will be returned Tuesday in time for them to cover Thursday's cremation ceremony.
Nation TV issued a statement saying it had no intention to violate the regulations. It said the footage which appeared on their Facebook Live, which it simultaneously broadcast on television at 11am, was filmed at 8:30am.
Nation did acknowledge it violated the rules by broadcasting footage before the rehearsal ended due to a misunderstanding.
TNews and Thai TV 6 did not issue a response. The ban was seen as a forceful warning for other media outlets to toe the line on strict regulations come Thursday.
Though mourners are allowed to livestream video through personal Facebook accounts, media agencies are not. They have been told they can only run the signal provided by the government's TV Pool for real-time broadcast.
Twelve stands have been erected around the Sanam Luang area for the media to film. Only those with legitimate media passes and certain types of professional cameras will be allowed on the stands. They have to choose between taking still images or filming video and register their intent in advance, according to the guidelines Sansern gave earlier this month in a press briefing.
Photographers in the stands will not be allowed to feed material real-time back to their newsrooms during the ceremony and will only be allowed depart when the procession ends. They will not be permitted to walk freely around the ceremony area to capture the atmosphere.
Those who attend must also follow detailed regulations on attire. Female Thai reporters were advised not to have colored hair. Men with long hair were told to get haircuts. Sansern also advised them to prepare transparent raincoats in case of bad weather.
A media guide for covering the royal cremation said when any royals pass, all photographers must pay respect. They are not allowed to take photos of seated royals straight on. It is also forbidden to take photos of royal family members when they are going up or down stairs or eating.
Reporters without proper cameras will only be allowed inside the off-site press center.
Related stories:
Drones Grounded Over Most of Bangkok for Royal Cremation