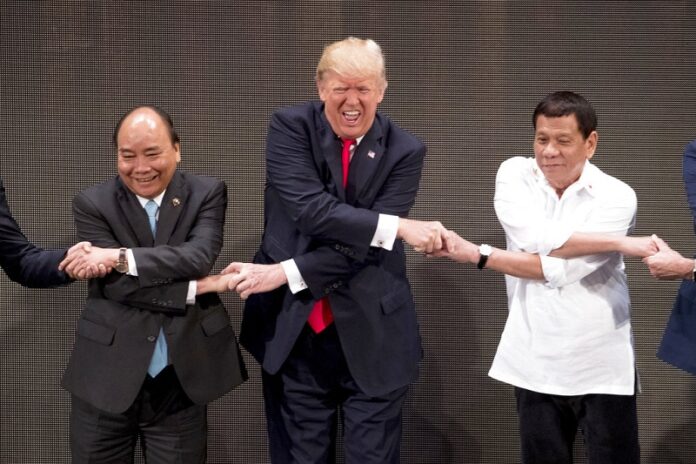 MANILA, Philippines — He grimaced. He grinned. He gripped.
President Donald Trump is known for his long, at times aggressive, handshakes with world leaders. But at an international summit in the Philippines on Monday, he struggled briefly with a different kind of handshake.
The Association of Southeast Asian Nations conference in Manila kicked off with a group photo of world leaders. And then the announcer intoned that it was time for the leaders to take part in a "traditional" ASEAN handshake. It's a cross-body exercise in which leaders extend their right arms over their left and shake the opposite hands of those on either side.
The announcer's instructions appeared for a moment to baffle Trump, who at first simply crossed his hands in front of him.
Then, looking around, Trump turned to the leaders who flanked him — Vietnamese Prime Minister Nguyen Xuan Phuc to his right, Philippine President Rodrigo Duterte to his left — and simply extended his arms outward.
That wasn't quite right, either.
Trump laughed, crossed his arms and reached to the correct sides. He grimaced at first, particularly when bending down to reach the hands of the shorter leaders on either side.
And then, with an exaggerated smile, he vigorously gripped their hands.
Story: Johnathan Lemire