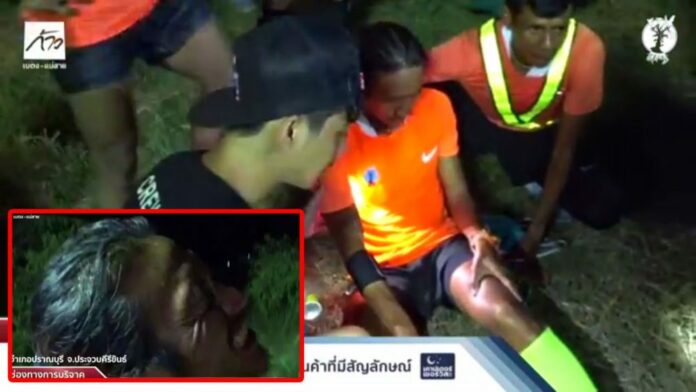 PRACHUAP KHIRI KHAN — After collapsing just shy of Hua Hin town, a rock star running across the country for charity stopped for a second time in a week due to an injury.
Artiwara "Toon Bodyslam" Kongmalai, who's run over 1,000 kilometers and raised more than 355 million baht for public hospitals, collapsed Tuesday night while on his run. Members of his team blame the injury on his constant need to stop and pose for selfies with adoring fans who line the route.
"His injury might have been partly due to selfies," said Thipipat Srikhoatnattakul of Kao Kon La Kao, the run's organizer. "He has to run, stop and squat repeatedly."
Boxer Buakaw Banchamek, who is also running with Toon, collected donations from onlookers while Toon was evacuated for treatment.
However, Thipipat said Toon's doctors and Toon himself still believe he can finish the cross-country run after a one-day break.
"The doctors haven't said anything serious, but today he's receiving a lot of physical therapy," Thipipat said.
Less than a week ago, Toon was forced to halt his progress in Prachuap Khiri Khan for three days due to an injury to his right leg. He just resumed progress on Sunday.
Organizers encourage members of the public who want selfies with Toon to wait for him at designated checkpoints and begin recording in video mode, similar to what two children in Prachuap Khiri Khan kids did in a viral video widely shared since Tuesday.
"It would be great to do it exactly like those kids. Don't pull on him or anything," Thipipat said.
As for Toon's morale?
"Oh, it's overflowing," laughed Thipipat. "People are constantly sending him messages of encouragement."
A livestream of Toon's run Tuesday. His injury happens around 1:14:15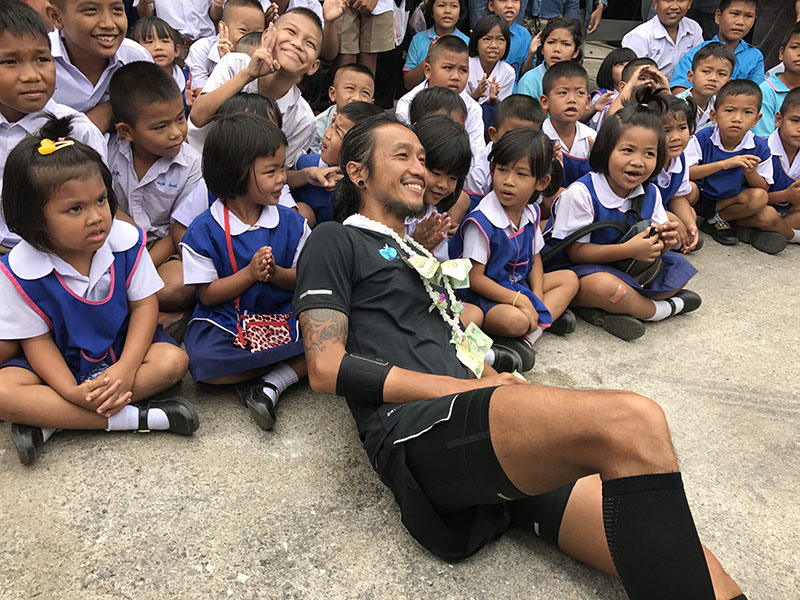 Related stories:
Despite Raft of Sponsors, Public Gives Most to Charity Run
King to Honor Running Rocker 'Toon' With Gifts
Mo Farah Encourages 'Toon Bodyslam' on Cross-Country Charity Run