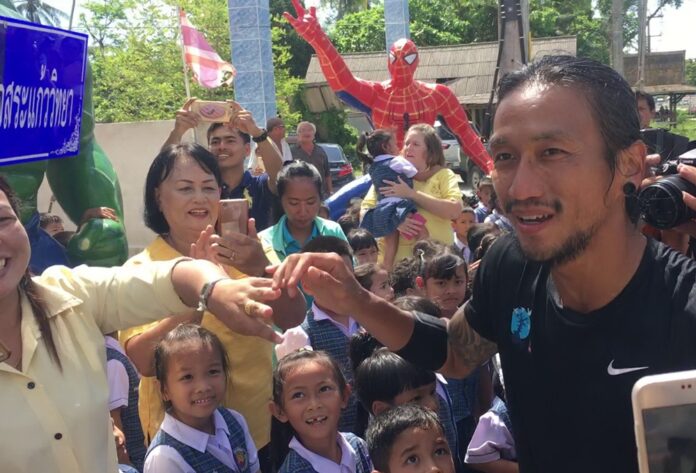 BANGKOK — Philanthropist and rocker 'Toon Bodyslam' just got his biggest fan yet: King Rama X.
To show his appreciation for Toon's ongoing runathon for 11 hospitals across the country, His Majesty the King has arranged gifts to be sent to the 38-year-old singer on Wednesday when he arrives in Surat Thani province, an official said Monday.
Read: Mo Farah Encourages 'Toon Bodyslam' on Cross-Country Charity Run
Provincial spokesman Yupin Sutthisophon said the palace has yet to inform local officials what the presents will be. They will be presented to Toon in a ceremony at a hotel by Gen. Pakdee Saengchuto, deputy secretary to the king.
Toon, whose name is Artiwara Kongmalai, is in the second week of a 2,191-kilometer charity run from the southernmost tip of Thailand to the far north to raise money for 11 state hospitals in need of new equipment and facilities. One of the 11 hospitals is in Surat Thani.
As of Monday he had reached Nakhon Si Thammarat province, where yesterday he received the biggest donation yet: 16 million baht from a millionaire.
The former Bodyslam frontman has raised 214 million baht in 12 days.
Yupin said people on the Surat Thani mainland and outlying islands have put together strings of 20 baht bills which will be given to Toon on Wednesday.
"Everyone here is proud to take a step forward together with Toon," she said.
Related stories:
Rock Star Sets Off on Cross-Country Charity Run