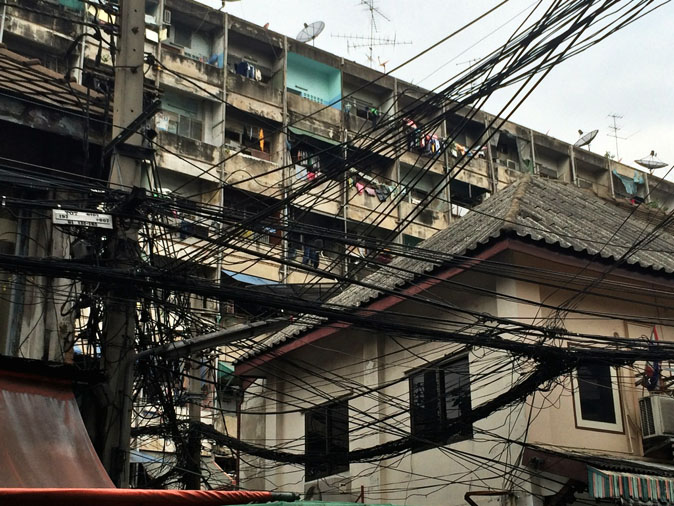 BANGKOK — Tangled masses of power cables above one of Bangkok's major thoroughfares will be moved underground over the next several years, the state electricity authority announced Monday.
A long-running and intermittent effort to underground utility poles and power lines throughout the capital is turning to Ratchadaphisek Road, which the authority said would be completed by 2021.
"Right now, the Metropolitan Electricity Authority has completed designing the underground system of wires along Ratchadaphisek Road until the Khlong Toei Intersection at Rama IV Road," Thepsak Thitiraksa, assistant governor of the Metropolitan Electricity Authority said Monday. "The construction will run along the MRT Blue Line, so the construction will be difficult since we will try not to affect the train's operation."
Bidding for the first of two phases to the work is expected to begin next year, Thepsak said.
The first to be completed is the 14.3-kilometer stretch Lat Phrao Road down to Rama IX Road, estimated to cost about 4.3 billion baht. After that, the work will move to the 8.2 kilometers between Rama IX and Rama IV roads, with a price tag estimated at 4.5 billion baht. That bidding process isn't expected to begin until 2019.
Ratchadaphisek Road is one of the major inner ring roads in Bangkok, a large portion of which runs parallel to the existing MRT subway line. Earlier in June, the Metropolitan Electricity Authority announced that Sathu Pradit, Nang Linchi and Sathorn roads would be undergrounded, with the job to be done by 2020.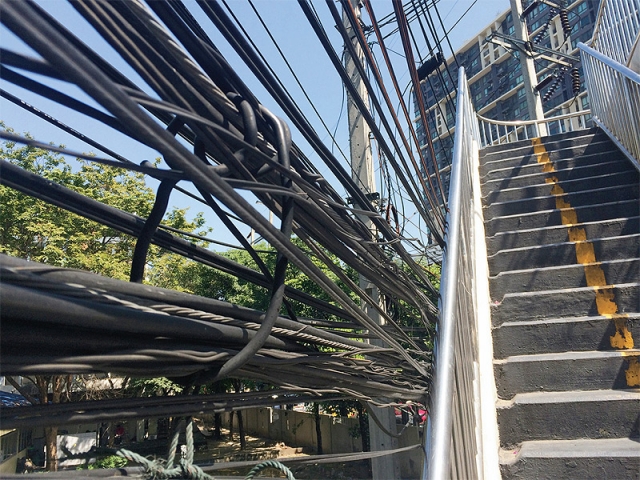 In June 2016, Bill Gates called attention to Bangkok's hanging power lines, embarrassing local government and prompting officials to say the work would be completed in five years.
With streets prone to flooding, the sight of tangled bird nests of electrical lines has long been a hallmark of the capital. Thepsak said work on moving power lines in Greater Bangkok underground since 1984, with all power lines along 215 kilometers of roadways to be moved by 2021.
Thepsak said 20 percent of the work, or 43 kilometers, has been completed. Work is presently underway on another 43 kilometers.
"I'm sure Bangkokians want to see the wires move underground," Chaiyong Puapongsakorn, authority governor, said earlier this year. "If they're above ground, people can run into the poles, trees fall on the wires and birds and mice come gnaw on the them. We won't have these problems when the wires are underground …"
The new lines, Chaiyong said, will be insulated, protected from the elements and pests, and be in service up to 30 years.
Related stories: