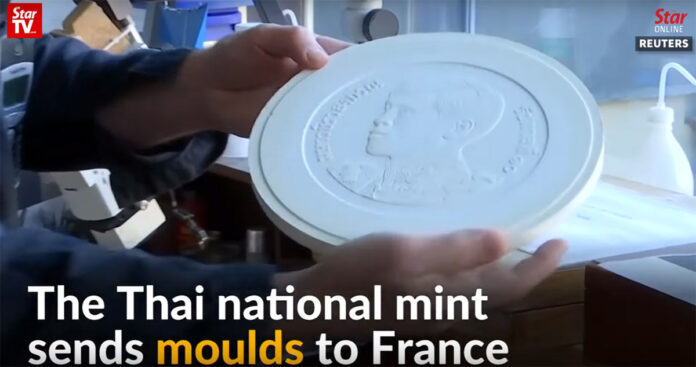 BANGKOK — The Treasury Department warned social media Wednesday not to share footage of the new coins being minted to replace those currently in circulation.
The new design, which bears the portrait of King Vajiralongkorn, was briefly shown in a video about a French mint contracted to supply coins to Thailand. Treasury Director Pachorn Ananta-silpa said he has written a complaint to the mint for breaching its confidentiality agreement.
The design is supposed to be a state secret and has yet to be approved for release by the cabinet, Pachorn told reporters.
Read: Rama X to Replace Rama IX on Currency
The one-minute video was produced by Reuters. It explores a little-known fact that Thailand outsources its coin production to overseas mints like the one in France. At one point in the video, a French staff member shows what the new coin will look like to the camera.
A French television news segment back in April reported that Thai coins were being minted in Paris but did not show any designs.
Per tradition, King Bhumibol's death in October 2016 means his long-ubiquitous face on coins and banknotes will be replaced by that of his successor, King Vajiralongkorn. The government previously confirmed that would take place but gave no timeline.
Pachorn said he will seek financial compensation from the French mint for the unauthorized display of the new coin design.
He also warned Thais not to share the video on social media.
https://www.youtube.com/watch?v=1d_0p0Z0kS0a