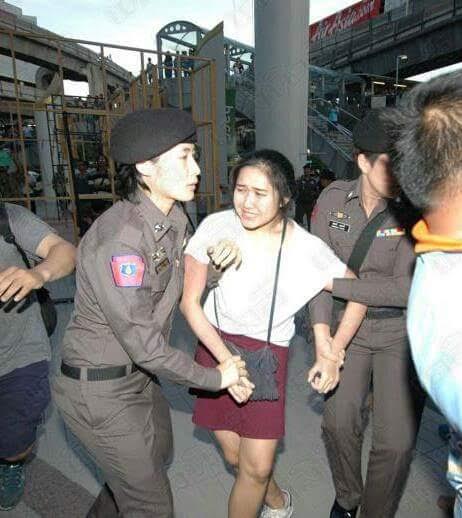 BANGKOK — Police said Monday they were not directed by higher authorities to summon a pro-democracy activist over a year-old royal insult claim that prompted her to flee the country.
A day after Chanoknan "Cartoon" Ruamsap announced she had left Thailand rather than be prosecuted for sharing a BBC Thai biography of King Vajiralongkorn in December 2016, the head of investigations at Bangkok's Khan Na Yao police the case was delayed for a year due to staffing changes.
"We work as a team," Viboon said.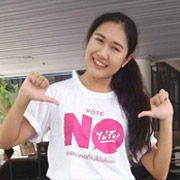 Asked if the military junta or the military government had ordered police to issue the summons, Viboon said no. "There was no [such directive]," he said. "I proceeded with it in accordance with the law."
Read: Activist Says She Faces Arrest for Sharing Stories Online
Chanoknan, 25, cited the Jan. 16 summons letter in a message announcing her hasty decision to flee Thailand.
"The time for decision-making was very short. I had less than 30 minutes to decide whether to stay or leave," she wrote. "The difficulty was that leaving this time means I will never be able to return. I made the decision and told my father and mother. Everyone was shocked. But they agreed. No one wants me to be in prison for five years for a post sharing BBC news."
She fled the same day.
Chanoknan was a spokeswoman of the now-defunct New Democracy Movement and one of the protest movement's few visible female leaders. She has been arrested several times in the past for her activism, including a January 2016 attempt to visit a billion-baht army project tainted by allegations of graft.
She's the second person to be charged with lese majeste, a crime punishable by up to 15 years in prison.
Activist Jatupat "Pai Dao Din" Boonpattararaksa is serving a sentence of two and a half years for sharing the same biography produced by BBC Thai-language news on Facebook.
Jatupat was arrested within days of its Dec. 1 publication and languished in jail for months before confessing to the crime in hope of a lenient sentence. Upward of 3,000 other people shared the same biography.
Following his arrest, Chanokwan said she was threatened with prosecution over the post while traveling abroad. "I don't think what I posted was wrong because I believe in freedom of expression, and freedom of speech is a human right, which [is] what I'm fighting for right now," she said from Brazil in December 2016.
Only Jatupat and Chanokwan have been subject to prosecution. Her police summons comes amid fresh protests against the ruling junta, which has seen its public standing damaged by scandal and an apparent lack of accountability.
Col. Viboon said he's aware that Chanoknan had announced online her decision to flee.
"We will have to check and if so, we'll be seeking an arrest warrant from the court," he said.
In the summons, Chanoknan was supposed to report to Viboon directly at Bangkok's Khan Na Yao Police Station on Jan. 18. Lese majeste charges can be filed by anyone against anyone; her's was filed by a soldier named Lt. Sombat Dangtha.
The crime also has a 15-year statute of limitations.
Related stories:
Activist Says She Faces Arrest for Sharing Stories Online
Three More Activists Arrested Over Army Corruption Protest