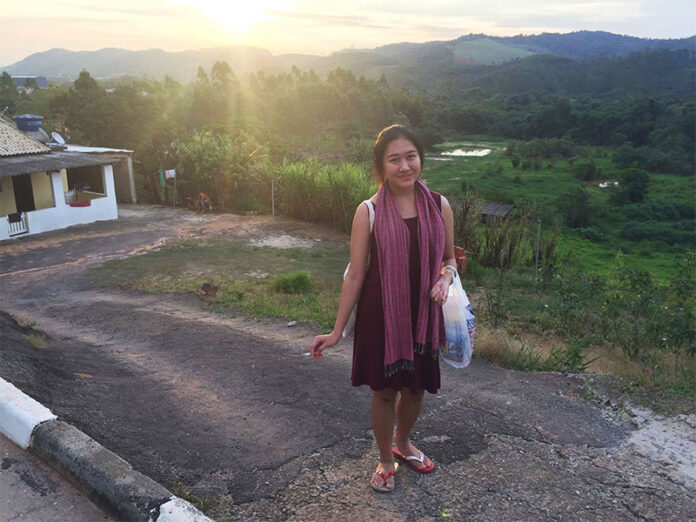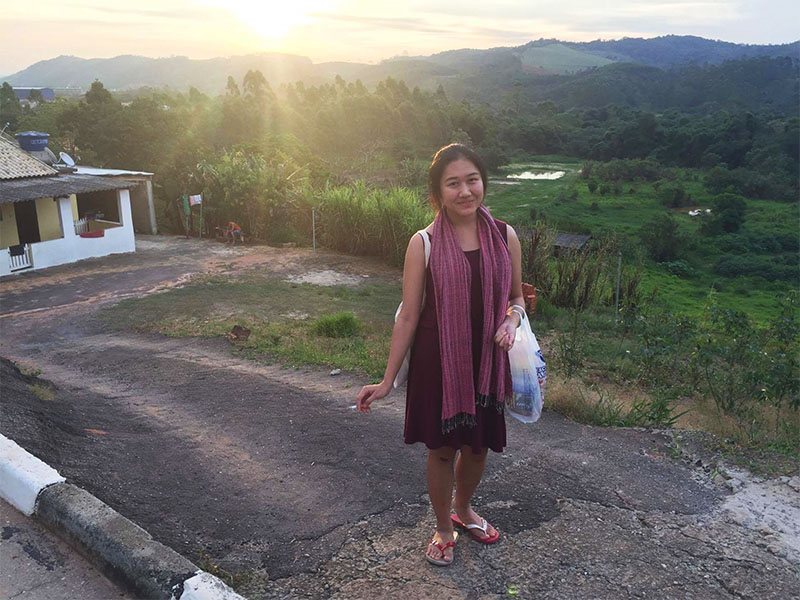 BANGKOK — A pro-democracy activist said Thursday the military has threatened to arrest her when she returns from abroad and charge her with lese majeste for sharing two articles by foreign media about the new King.
Though junta spokesman Col. Winthai Suvari said he had no knowledge of any warning made by army officers, Chanoknan Ruamsap, a 23-year-old spokeswoman for the New Democracy Movement, said her mother informed her she could be arrested and charged upon returning from Brazil.
Chanoknan is expected back Monday morning after two months training with a landless workers' rights movement in Sao Paolo, Brazil. Chanoknan recently shared on Facebook two articles about the new King, one from The Telegraph on Monday and another from BBC Thai on Saturday.
"If you dare write, I dare share," Chanoknan wrote along with her share of the BBC Thai biography, which has already led to charges against another activist who shared it.
Reached for comment, Chanoknan said she had been warned by her lawyers Sunday to remove the articles from her Facebook profile after the arrest of  Jatupat "Pai" Boonpattararaksa, a member of community rights group Dao Din, one week earlier.
Chanoknan said her mother rang her from Bangkok on Wednesday morning.
"My mom called, sounding stressed and reprimanding me, saying this is serious and that a military officer had rung her up to tell her [I] might be apprehended at the airport," Chanoknan wrote in a chat message Thursday. "She said I could face a military court for my earlier charge of violating the junta's ban on political gatherings because I posted the articles after Jatupat."
Chanoknan, who said she was also threatened with prosecution under the Computer Crime Act, said she will not back down.
"I don't think what I posted was wrong because I believe in freedom of expression, and freedom of speech is a human right, which [is] what I'm fighting for right now," she said.
Chanoknan admonished the junta in a message posted Wednesday, saying it's futile to pressure her through her parents because they've failed to influence her over the years with their differing political views.
"Those military officers who visited my home almost every month for a year, to the point where they became close to my mother and father, should not think that they can send a message through my family to tell me what to do or what not to do," she wrote. "I don't need permission from anyone. Try again."
Although junta spokesman Winthai said he did not have knowledge of what Chanoknan claimed, he said anyone risked arrest and prosecution if they violated the law.
She was arrested back in January for her involvement in a December 2015 protest against alleged corruption in the construction of a royal memorial park in Prachuap Khiri Khan province.
Chanoknan said Thursday that her lawyers have advised her to prepare money for a bail bond and have friends meet her at the airport.
Jatupat was made to pay a 400,000 baht bond to be freed Sunday.
"But I don't have 400,000 baht for bail," Chanoknan said. "Over the past five years of my [political] activism, my parents have contributed 0 baht."
Related stories:
Police Say They Didn't Visit BBC Thai After Deputy PM Says They Did
Authorities Visit BBC Thai Offices, Block Article Online
Activist 'Pai Dao Din' Freed on Bail After 112 Arrest