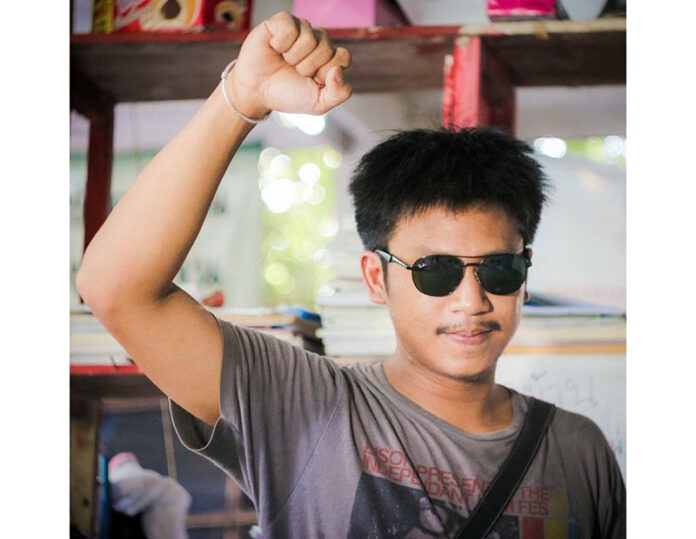 CHAIYAPHUM — A northeastern activist and dissident was arrested Saturday morning and accused of defaming the monarchy for sharing a BBC Thai biography of the new King.
Officers arrested Jatupat "Pai" Boonpattararaksa, a member of community rights group Dao Din, while he was at a religious event at Wat Pasukato in Chaiyaphum's Kaeng Khro district. Jatupat livestreamed part of the incident via Facebook.
The 25-year-old law student was later taken to the district office before being sent to Khon Kaen Provincial Station where he was placed in custody.
The arrest warrant was issued Friday, according to a copy posted online by Wiboon Boonpattararaksa, Jatupat's father and lawyer. It said Jatupat committed lese majeste under Article 112 of the Penal Code and indicated he could serve three years for the offense.
Ceremonies formally installing King Rama X to the throne were completed Thursday evening.
Jatupat reportedly shared and quoted an article from BBC Thai on the biography of his life early Friday morning at about 5am.
"The decision [to run the biography] was made in London. We have no say about it," BBC Southeast Asia Bureau Chief Jonathan Head said Saturday afternoon by telephone. He didn't expect either the BBC or BBC Thai to make any statement about the arrest.
"It's far too sensitive," Head said.
BBC Thai has reported the arrest, saying that more than 2,600 people had also shared the story.
Back in August, Jatupat was jailed two weeks in Khon Kaen for handing leaflets out urging people to vote against the junta-sponsored constitution.
Related stories: